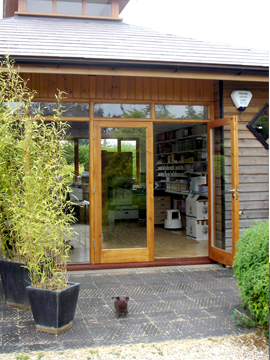 Terms & Conditions
As The School has grown over the years, so the need for us to embrace more standard business procedures has grown. Not all of these suit our style but we recognise the importance of good business practice and the requirements of a growing profession. Therefore, parts of these terms and conditions may feel a bit formal.

First and foremost we understand that your security and privacy is vital when working with the School.
Security
Robust security is critical when ordering online. We have put in place a system that is safe and secure so you can order through our website with peace of mind. In fact your card details are not visible to us, they go direct to our payment service provider, Sage Pay (the UK largest Payment Service Provider), and our whole website is VeriSign Secured.
www.sagepay.com
www.verisign.com
SSL Certificates
All our websites also use SSL certificates. SSL Certificates are small data files that digitally bind a cryptographic key to an organisation's details. When installed on a web server, it activates the padlock and the https protocol and allows secure connections from a web server to a browser. Typically, SSL is used to secure credit card transactions, data transfer and logins, and more recently is becoming the norm when securing browsing of social media sites.
Ordering online
By placing an order on this site, you are agreeing to the terms, as follows:
Prices quoted on this website may differ from those stated in our printed material.
Images of products shown on this website are for illustration purposes only and items supplied may differ in appearance from that shown.
In making an order on this site, you are offering to purchase items advertised. We reserve the right to decline to supply the whole or part of any order.
Please allow 14 days for delivery of your order (21 days for overseas orders). If you have any enquiry regarding your order, please e-mail info@soh.uk.com.
We will always try and deliver your parcel as selected but the final method of delivery of your order will be our choice - we use 1st Class Post (UK), UK Mail (UK), Airmail Printed Papers/Small Packet (Overseas), UK Mail Euro by Road (Europe).
Course materials are priced including postage and packing. All other items are liable to an additional postage and packing charge.
Postage and packing charges are added at the checkout.
The minimum postage and packing charge is £3.50.
Your credit/debit card will be charged in Pounds Sterling for all purchases from this site. The amount charged to your card account in your own local currency will depend on the exchange rate on the day of the transaction.
All prices include Value Added Tax where appropriate.
We have made every effort to ensure that all prices and product descriptions are correct, but The School of Health reserves the right to alter prices and product specifications without notice. We will contact you if this affects your order.

Please see these sections for further information on our terms, & conditions:
Statutory Rights
These terms and conditions do not affect your statutory rights. These terms and conditions shall be governed by and construed in accordance with the laws of England and Wales and the parties submit to the exclusive jurisdiction of the English and Welsh courts. The School of Health Limited reserves the right to change or amend these terms and conditions at any time without prior notice.
Errors & Omissions
The School of Health makes a huge effort to ensure that all prices and descriptions quoted on it's website and literature are correct - but we know no one is perfect. On the sad occasion when a mistake may occur, The School of Health will be entitled to revoke the contract, notwithstanding that it has already accepted the customer's order. The School of Health's liability in that event will be limited to the return of any money the customer has paid relating to that order.
Disclaimer
The content you find on this site, including news, quotes, data and other information, is provided by The School of Health and its third party partners. We do our best to ensure all the information is up to date and relevant but we reserve the right to change information and prices.
Liability
The School of Health, The School of Homeopathy or In-Light Limited will not be liable for any consequential or indirect damage or loss, however caused. This includes loss of profits, loss of goodwill, damage to trading relationships and financial loss. Liabilities in respect of all other losses shall be limited to the invoiced value of the relevant order.
If you need help or have any questions, please contact us.

Any questions... just give us a call on 01453 709 709