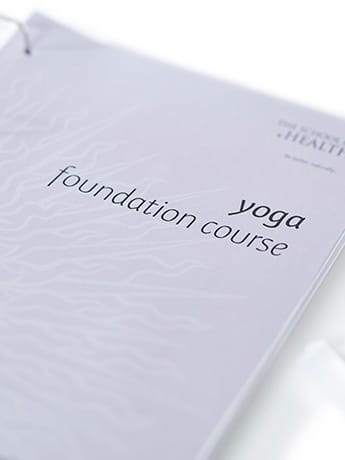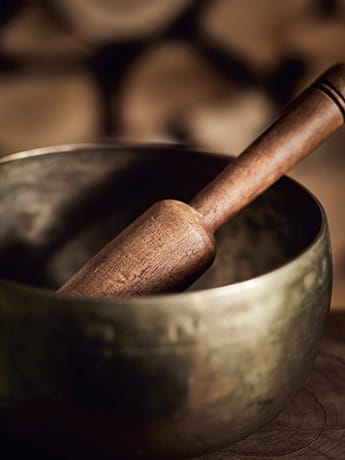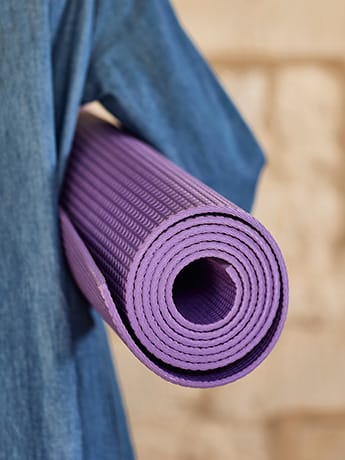 Yoga Foundation Course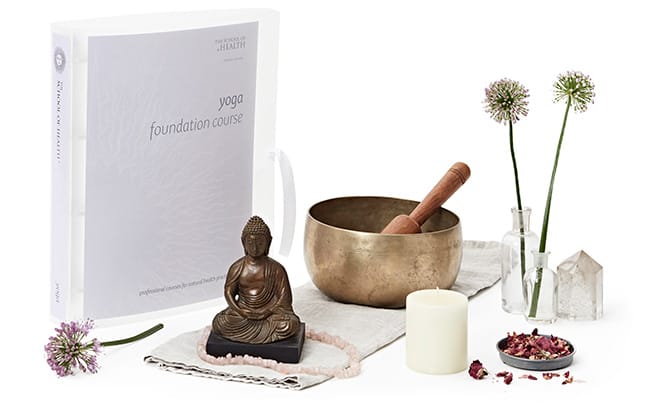 This distance learning foundation course is designed for those who already practice yoga, or those who wish to begin and have little knowledge of the origin, philosophy and different teachings of yoga. It is an ideal starting point for those that wish to learn more on their path to becoming a teacher. A home study course that will broaden ones understanding of the basic principles and upon completion enable a new way of thinking, deeper awareness and perhaps a new way of life.
Units: 1-8
Study Hours: 200
Time: Estimated 12 months (timing up to you)
Enrolment period: 2 years (with option to extend)
Book: The Heart of Yoga: Developing a Personal Practice
Certification: Foundation Diploma in Yoga
Study Options: Correspondence
What is involved with this course?
You learn from home about the philosophy, principles and methodologies that underpin yoga, to deepen your understanding of the practice and complement any classes you may already be attending.
After enrolling, each student receives a printed course manual in an easy to use ring binder and a course textbook. You will also be assigned your own personal tutor who will mark your assignments and support you along the way.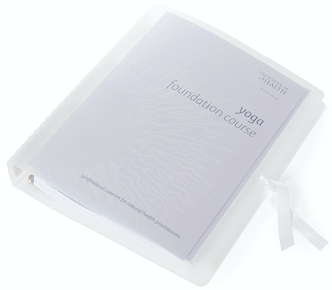 This study program has eight units, each has learning outcomes at the beginning, so you can see what you will learn from each section before you begin. You will also find reading references throughout, and a list of recommended books. There are also self-assessment questions with each unit so you can test your learning as you go. At the end of each unit there are one to two assignment questions to complete and send to your tutor for mentoring.

The course book has been specially selected as it contains a considerable body of information regarding the theory and practice of yoga and is an excellent text for understanding what yoga is all about.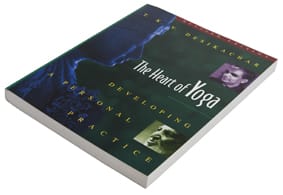 The Heart of Yoga: Developing a Personal Practice
T.K.V. Desikachar · ISBN 9780892817641
Desikachar is the son and student of Sri Krishnamacharya - Krishnamacharya is said to be one of the greatest yogis of the modern era. B.K.S Iyengar, Pattabhi Jois and Indra Devi all studied with him in their early years. Desikachar himself lived and studied with his father until Krishnamacharya's death in 1989.

In The Heart of Yoga Desikachar offers a distillation of his father's teachings as well as his own personal approach. In particular Desikachar focuses upon making yoga accessible to all individuals whatever their culture, sex, religion or state of health and so the style of yoga presented is very inclusive. The text covers a good spectrum of material ranging from the theory behind many of the practical aspects of yoga to the more theoretical and philosophical. At the back of the book there is also a good translation of The Yoga Sutras of Patanjali which are central to a yogic way of living.


What will this course do for me?
Studying yoga can be an enjoyable and satisfying experience and with this home study course you can relax, take your time and learn at a pace to suit you. In this distance learning course you will learn many different aspects to yoga, including the basics of anatomy and physiology, the importance of nutrition, and meditation; all of which play an important part in learning yoga. A brilliant ending to this course shows you how to fit yoga into your busy schedule, and how you can incorporate its teachings into your daily routine and maybe change your lifestyle for the better.
Learning yoga can also be beneficial to your health in numerous ways:
Learn to let go of physical and mental tension
Rehabilitate a back problem
Alleviate habitual insomnia
Increase physical strength and flexibility
Help circulation
Improve your immune system
Alleviate respiratory problems
Lower blood pressure
Balance hormones
Improve digestion
Increase your feeling of wellbeing.

Not only does this course have health benefits, go further and learn the meanings behind the techniques, learn where it all started and how it is still growing, open your mind to the spiritual benefits of this ancient practice.
Who can do the course?
This course is open to anyone with a sincere interest to learn more about yoga. No prior knowledge is needed. The course is distance learning, therefore you can integrate it into your own life in a way to suit you. There are no exams so there's no pressure; feedback on your progress is given via your own personal tutor and continual assessment; it's a stress free learning experience. We play a supporting role, here to guide you through the process if you feel you need help.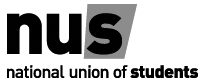 NUS Cards
As a registered member of the National Union of Students, UK students that enrol on this course can apply for an NUS extra card. This provides discounts for many things such as travel, food shopping, electrical goods, cinema tickets, fashion etc. Just ask about this when you enrol with us and we can send you the details.
Benefits of this course
Adopt a new way of thinking
Broaden the mind
Improve your health and overall well being by practicing the poses
Learn how to meditate
Learn relaxation techniques to relieve stress and anxiety
Improve flexibility
Provides a solid foundation if further teacher training is wanted
Clearly presented, easy to follow and thorough in content
Personal tutors give guidance and feedback
Highest level of support by post or email
Study can be started and finished at any time
Work at your own pace – timetable to suit you
There are no exams
Stress free learning experience
Certificates are awarded on completing the course
NUS extra student discount card for UK students
For further information please contact contact us and one of our team will be happy to help.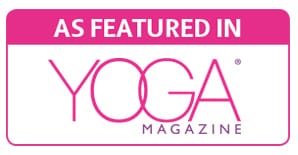 Adopt a new way of thinking, and improve your health.