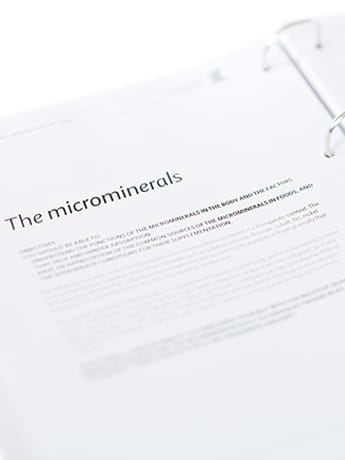 Nutritional Therapist Advanced Course

The Nutritional Therapist Course Stage 3 (Units 9-12) Advanced Course follows on seamlessly from the School of Health Nutritional Therapist Course Stages 1 & 2 (Units 1-8).

We will be seeking Naturopathic Nutrition Association (NNA) accreditation for this course. This Advanced Diploma course is ideal for anyone that wants to further their studies in Nutritional Therapy. The Stage 3 upgrade comprises of: 4 Units (9-12) of Nutrition. You will also complete 6 fully supervised consultations and attend a 6 day Clinical Event. The course is equivalent to a NVQ Level 6.
The Naturopathic Nutrition Association (NNA) is a member of The General Naturopathic Council (GNC), which has close ties with the European Federation of Naturopaths. Members of the NNA that have also completed Naturopathic training are eligible to make an application for registration with the CNHC (Complementary & Natural Healthcare Council) for the Naturopathy and Nutritional Therapy registers.
In addition, membership of the NNA as a Naturopathic Nutritional Therapist also allows you associate membership of the General Naturopathic Council (GNC). Not only will successful students be Naturopathic Nutritional Therapists but also Associate Naturopaths - with the chance to upgrade to full Naturopathic status by completing further studies of naturopathy and associated disciplines. You will need to be practicing for 2 years as a Nutritional Therapist with the NNA before you can upgrade to being a full Naturopath. This allows you time to consolidate your learning and undertake the various training required to allow you to apply for full naturopathic status.
The Nutritional Therapist Advanced Course is a blend of naturopathic nutrition, nutritional science, biochemistry, business studies and research. The clinical event and clinical supervision that is linked to the course helps you put all of your learning into practice and further your career as a successful Nutritional Therapist.
Nutritional Therapist Advanced Course

Units: 9-12 (Stage 3)
Study Hours: 450-500
Time: Estimated 9 months (timing up to you)
Enrolment period: 1.5 years (with option to extend)
Books: 2 books included & a book list is required
Study Options: Correspondence (paper) or e-learning (online)
The course starts with a look at biochemistry and cellular energy production in more detail and then links this to the latest research in epigenetics and how we can use this information as Nutritional Therapists. You will learn about single nucleotide polymorphisms (SNP's) and how to incorporate this information into your consultations. We then move on and look at specific aspects of nutrition and lifestyle medicine and how to help your clients stay healthy; such as the importance of exercise, correct breathing methods, sunlight, fresh air, clean water, adequate sleep and pollution-free food. Within this study we also look at the effects of modern farming methods, soil depletion and the associated effects upon health, plus the research of Dr Paul Clayton and the 'nutrition gap': the difference between the nutrients we obtain from our food and what we actually need on a biochemical level. You will also study current public health issues and how this relates to nutritional and lifestyle factors.
Included in the course is a detailed exploration of the client-practitioner relationship and how to deal with various scenarios and client compliance, including motivational techniques to encourage your client to carry out your suggested programme. Underpinning all of this is the naturopathic basis which is the foundation of all School of Health courses and you will continue your studies of the cause of disease and various assessment methods - naturopathic, functional and medical - that can be used to assess a client's overall health and/or symptom picture. Legal requirements that Nutritional Therapists need to be aware of and abide by are also covered.
The Nutrition Advanced Course is made up of:
Unit 9 Applied Nutrition
In this unit students will look at detailed nutritional biochemistry and nutrigenomics; Environmental aspects that affect health and disease including water, air, sunlight, exercise and soil health; Investigate the aetiology of presenting symptoms, e.g. psychological, physiological, sociological, cultural, economical or environmental; Study dietary requirements through the life stages, discussing the various factors affecting food choice; Consider sustainability and environmental impacts of food and diet choices; Incorporate current national and international dietary recommendations and government health policies, Dietary Reference Values and safe upper limits as appropriate for the client.
Unit 10 Clinical Practice & Supervision
This unit starts with an overview of the supervision process and involves working with a clinical supervisor. You will find three volunteer clients for a fully supervised consultation, with each client returning for a follow up consultation where you will assess their progress and make changes accordingly. You will complete case taking and analysis, before producing diet and supplement prescriptions and lifestyle advice, which will be checked and approved by your supervisor. Supervision provides us with the opportunity to reflect upon and learn from our work. This is done with someone who is more experienced than us and is outside our situation. Many different professions use supervision, for instance, psychotherapy where it is well established, social workers, nurses, those working in voluntary organisations, police. The value and importance of supervision is being increasingly recognised in the nutrition profession.
Unit 11 Research
In this module we will be looking at research methods in healthcare and how they have been employed in nutrition research. Firstly we will ask why we might need research in nutrition and then take a look at how the perspective of the researcher (paradigm) influences the type of research that is undertaken. Following that we will go through the steps involved in designing a research project and consider how we might find and evaluate existing research information. Finally we will look at the concept of evidence based medicine and the evidence base in nutrition.
Unit 12 Setting up in practice
This module aims to help you set up or expand your own clinical practice. For most nutritional therapists this also involves starting their own business, so we will be looking at creating a business plan and finding ways in which you can make sure that the practice you run is going to be as healthy financially as it is in providing your clients with a great service. The aim for your practice is for it to reflect you perfectly and uniquely so that it feels comfortable to run and authentic to who you are as an individual. Our aim is to inspire you with new ideas on how to make your practice thrive.
6 Day Clinical Event
Finally there is a 6 day clinical event in which you will be able to consolidate your learning. The event will be a mixture of lectures, discussions, student presentations and plenty of case studies to work through, including paper cases, pair-work and fully supervised live observed cases. Each day of this event will be a blend of new lectures, clinical practice and revision and consolidation of what you have learnt via distance learning on the course. You will start each day with a philosophy lecture covering new areas of learning and development, then students will work in pairs on a mixture of paper and live clinical cases, before coming together as a group to discuss the case with the tutor.
Certificate
Successful completion of the above leads to the:
Nutritional Therapist Advanced Diploma (NT.Adv.Dip).
Naturopathic Nutrition Association
This Nutritional Therapist Advanced Diploma course will be submitted for accredited by Naturopathic Nutrition Association and is suitable for those who wish to practice Nutrition to a higher level. The Naturopathic Nutrition Association is a member of The General Naturopathic Council (GNC), which has close ties with the European Federation of Naturopaths. The GNC has been working towards the establishment of a two-tier GNC register. The upper tier (Registered Naturopaths) is for practitioners who meet all the GNC's core element requirements; the second tier provides a unique opportunity for practitioners, including members of the NNA, to become Associate Members. Members of the NNA that are also Naturopaths are eligible to make an application for registration with the CNHC (Complementary & Natural Healthcare Council). CNHC is a voluntary regulator for complementary healthcare practitioners.
Registration
Once you join the NNA you will be listed as a Nutritional Therapist on their public register. The NNA Register is a published list of nutritionists who work to a set educational standard and within an established code of ethics. Potential clients seeking a nutritional practitioner trained to a high standard can access this Register to find someone in their area. NNA registered Nutritional Therapists can also register and list themselves with the Nutritionist Resource. Please note that completion of our International programme does not always confer an automatic license to practice in your country. Whilst we have a good recognition in the UK it is wise to review the official recognition policies of your own country before setting up in practice.
We hope you choose to enrol with us. If you have any questions or would like more information about the Nutritional Therapist Advanced Course please contact us, we are here to help.
If you have any questions about this Nutritional Therapist Advanced Course please give us a call on 01453 765 956.