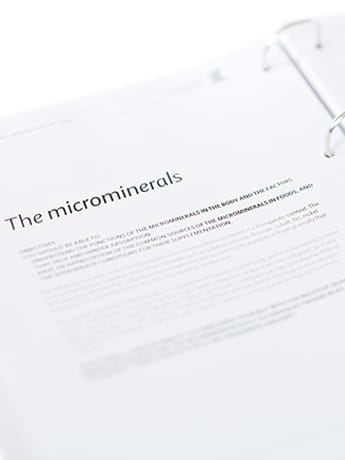 Nutritional Therapist Advanced Course Yr 3

The Nutritional Therapist Advanced Course follows on seamlessly from our Nutritional Therapist Course. It is for graduates who wish to take their training to a higher level with additional theoretical study, clinical observation, clinical supervision and in-course cases. This distance learning online Advanced Diploma course has been designed with flexibility in mind and can be completed in 1 year part-time. The course is Federation of Nutritional Therapist & Practitioners (FNTP) and Society of Naturopaths (SoN) accredited and equivalent to a NVQ Level 6. Graduates are also eligible to join the Naturopathic Nutrition Association (NNA).
Nutritional Therapist Advanced Course Yr 3

Units: 9-12
Study Hours: 450-500
Credits: 50
Time: Estimated 9/12 months (timing up to you)
Enrolment period: 1.5 years (with option to extend)
Books: A Book List is required
Certification: Therapist Advanced Diploma in Nutrition
Study Options: Correspondence (paper) or e-learning (online)
Clinical Observation: 4 Day Event
Clinical Supervision: 6 Cases (paid for separately)

The course starts with a look at biochemistry and cellular energy production in more detail and then links this to the latest research in epigenetics and how we can use this information as Nutritional Therapists. You will learn about single nucleotide polymorphisms (SNP's) and how to incorporate this information into your consultations. We then move on and look at specific aspects of nutrition and lifestyle medicine and how to help your clients stay healthy, such as the importance of exercise, correct breathing methods, sunlight, fresh air, clean water, adequate sleep and pollution-free food. Within this study we also look at the effects of modern farming methods, soil depletion and the associated effects upon health, plus the research of Dr Paul Clayton and the 'nutrition gap', the difference between the nutrients we obtain from our food and what we actually need on a biochemical level. You will also study current public health issues and how this relates to nutritional and lifestyle factors.
Included in the course is a detailed exploration of the client/practitioner relationship and how to deal with various scenarios and client compliance, including motivational techniques to encourage your client to carry out your suggested programme. Underpinning all of this is the naturopathic basis, which is the foundation of all School of Health courses, and you will continue your studies of the cause of disease and various assessment methods - naturopathic, functional and medical - that can be used to assess a client's overall health and/or symptom picture. Legal requirements that Nutritional Therapists need to be aware of and abide by are also covered.
The Nutrition Advanced Course is made up of:
Unit 9 : Applied Nutrition
In this unit students will look at: Detailed nutritional biochemistry and nutrigenomics; Environmental aspects that affect health and disease including water, air, sunlight, exercise and soil health; Investigating the aetiology of presenting symptoms, e.g. psychological, physiological, sociological, cultural, economical or environmental; Studying dietary requirements through the life stages, discussing the various factors affecting food choice; Considering sustainability and environmental impacts of food and diet choices; Incorporate current national and international dietary recommendations and government health policies, Dietary Reference Values and safe upper limits as appropriate for the client.
Unit 10 : Clinical Practice & Supervision
This unit starts with an overview of the supervision process and involves working with a clinical supervisor. You will find three volunteer clients for a fully supervised consultation, with each client returning for a follow up consultation where you will assess their progress and make changes accordingly. You will complete case taking and analysis before producing diet and supplement prescriptions and lifestyle advice, which will be checked and approved by your supervisor. Supervision provides us with the opportunity to reflect upon and learn from our work. This is done with someone who is more experienced than us and is outside our situation. Many different professions use supervision, for instance psychotherapy where it is well established, social workers, nurses, those working in voluntary organisations, police. The value and importance of supervision is being increasingly recognised in the nutrition profession.
Unit 11 : Research
In this module we will be looking at research methods in healthcare and how they have been employed in nutrition research. Firstly we will ask why we might need research in nutrition and then take a look at how the perspective of the researcher (paradigm) influences the type of research that is undertaken. Following that we will go through the steps involved in designing a research project and consider how we might find and evaluate existing research information. Finally, we will look at the concept of evidence based medicine and the evidence base in nutrition.
Unit 12 : Setting up in practice
This module aims to help you set up or expand your own clinical practice. For most nutritional therapists this also involves starting their own business, so we will be looking at creating a business plan and finding ways in which you can make sure that the practice you run is going to be as healthy financially as it is in providing your clients with a great service. The aim for your practice is for it to reflect you perfectly and uniquely so that it feels comfortable to run and authentic to who you are as an individual. Our aim is to inspire you with new ideas on how to make your practice thrive.
4-Day Clinical Event
We run at least one clinical event a year and it is for students on the Nutritional Therapist Advanced Course or for those who have completed the 8 Units of the Nutritional Therapist Course. The event is mostly case based via clinical observation but includes a mixture of lectures, discussions and student presentations. Students can attend in person or via Zoom. The cost of the 4-Day Clinical Event is included in the course fee (if you do not attend the course during your enrolment period you will have to pay a top-up fee if the event fee has increased) and you also pay a £50 registration fee when you book.
Through live clinics and video and paper cases students gain the expertise and confidence to work on a wide range of cases. Clinical training is a fundamental aspect of the course where students put theory into practice and see cases first-hand. Working in clinical training progresses through 5 phases:
Phase 1 · Case receiving
The client and clinic nutritionist view the case, allowing you to watch and take notes of the case being received.
Phase 2 · Personal analysis
You work on the case for 10-15 minutes quietly on your own. The object is to develop a general overview of what is going on for the client and what needs to be cured – the broad brushstrokes.
Phase 3 · Triad or pairs analysis
Working in subgroups allows you to further develop your overview of the case and to begin to develop ideas. The clinic nutritional therapist will guide and help where required.
Phase 4 · Group analysis
One member of the working subgroup addresses the entire group giving a résumé of the triad group's perceptions. Others then follow suit. You are encouraged to use the white board to schematise and show your workings, thus many opinions are gathered and worked on cooperatively. Prejudiced points of view and collusion with the client's state are usually unearthed during this process by peer review. Thus, you work through the synthesis of case material, identifying themes and assembling symptoms which belong to the disease and are representative of the client.
Phase 5 · Treatment plan
We then arrive at a group decision for a treatment plan. Diet, foods and supplements are then discussed. Finally, we consider any naturopathic and adjunctive advice or interfacing with other health care providers we may wish to give the patient – all of this is discussed by us in the group.
Clinical Supervision - 6 months, 6 cases
Students find three volunteer clients for fully supervised consultations, with each client returning for a follow up consultation where they will assess their progress and make changes accordingly. Students complete case taking and analysis before producing diet and supplement prescriptions and lifestyle advice, which will be checked and approved by the School supervisor. Clinical Supervision is not included in the course fee and when you apply there is a registration and overview fee. Most of the costs of supervision can be recouped by asking your clients under supervision to make a contribution to the cost. If you would like any further information about the clinical training or costs, please contact us.
Certificate
Successful completion of the above leads to the:
Nutritional Therapist Advanced Diploma (NT.Adv.Dip).
Federation of Nutritional Therapy Practitioners
This Nutritional Therapist Advanced Diploma course is fully accredited by the Federation of Nutritional Therapy Practitioners and is suitable for those who wish to practice Nutrition at the highest level. FNTP is the largest and fastest growing professional body for practitioners of nutritional therapy in Europe, FNTP Accredited Courses provide the reassurance of recognition for insurance and practice in almost all European countries and students outside Europe can become members too. Because our Nutritional Therapist Course is FNTP Accredited, when you graduate with this qualification the award is considered, by the main international bodies, to be appropriate for practice.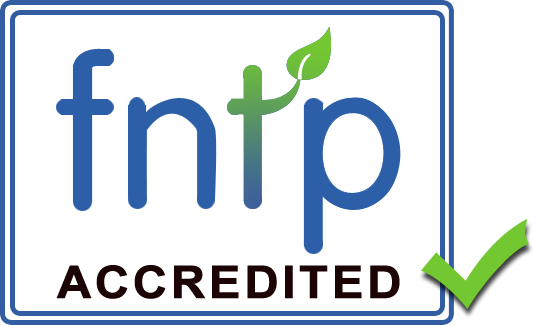 Society of Naturopaths
The School's Nutrition and Naturopathy courses are accredited with the Society of Naturopaths (SoN). Anyone completing the Nutritional Therapist Course (Units 5-8), or the Nutritional Therapist Advanced Course (Units 9-12) can register with SoN as an 'Associate Naturopath'. Students who go on to complete the School of Health's Naturopathy Course plus Pathology & Disease Course can register as a full 'Naturopath ND'.
Naturopathic Nutrition Association
Graduates from the Nutritional Therapist and Nutritional Therapist Advanced courses can join the Naturopathic Nutrition Association (NNA). The NNA is a UK professional association for Nutritional Therapists who practice in accordance with naturopathic principles. Graduates of the Nutritional Therapist Course (Units 1-8) with clinical hours can apply to the NNA as an Associate Member. Graduates from the Nutritional Therapist Advanced Course (Units 1-12) with clinical training (50 hours minimum) can apply for full membership. Current professional insurance providing a minimum of £6 million cover will be required. Completion of the NNA's NOS and Core Elements Statements of Practice (the NNA provide a template for these and the School can also supply a completed template) is required. Full Membership grants the following benefits: 1. Membership of the General Naturopathic Council (GNC) and Associate Naturopath title; 2. Practice listing on the NNA website; 3. Access to the Comprehensive Natural Medicines Database (a database for checking interactions and contraindications); 4. Opportunity to apply to join Complementary & Natural Healthcare Council (CNHC).
Federation of Holistic Therapists
Students or graduates of our Nutrional Therapy, Naturopathy or Homeopathy courses can apply for membership with The Federation of Holistic Therapists. FHT is the UK's largest professional association for therapists, ensuring high standards in therapy education and practice since 1962.
Registration
Once you join a membership association (FNTP, SoN, NNA, FHT etc) you will be listed as a Nutritional Therapist on their public register. A Register is a published list of nutritionists who work to a set educational standard and within an established code of ethics. Potential clients seeking a nutritional practitioner trained to a high standard can access the Register to find someone in their area. FNTP registered Nutritional Therapists can also register and list themselves with the Nutritionist Resource.
Please note that completion of our International programme does not always confer an automatic license to practice in your country. Whilst we have a good recognition in the UK it is wise to review the official recognition policies of your own country before setting up in practice.
Course Materials
We send you the printed course manuals and the four essential course textbooks for the two courses and you will also have access to the movie lectures that accompany each of the course units.

Course manual
The Nutritional Therapist Advanced Course Stage 3 Units 9-12 comes in a binder. Each of the units are around 50-80 pages. Each unit has a number of Activity questions to complete after studying the material, watching the lectures and reading the relevant part of the text books. All the work is to be submitted to your tutor for observation and marking, assessment and feedback.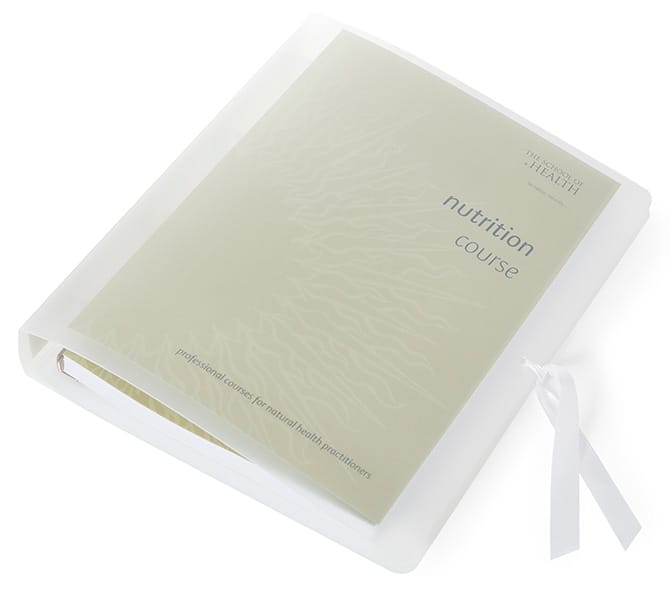 Personal tutor
When you enrol you will be assigned your personal tutor. All of our tutors come from the world of natural health and have a strong passion for the holistic way of life, plus they are selected for their nurturing qualities. They will support you through your study answering any questions that arise and marking your activities. The faculty in the head office are also available to assist as and when required. We are here to help and you can ask for support whenever you need it.
Tutorials
The course includes a one-to-one tutorial with your personal tutor. These take place over Zoom, Skype or phone. The tutorial is 20 minutes and is usually scheduled 3-4 months after you enrol onto the course.
Tutorials Upgrade Pack
If you would like a tutorial with each Unit of the course then you can purchase the Tutorials Upgrade Pack at the time of enroling. This will give you a 4 x 30 minute tutorials one at the end of each Unit after you complete the assignments.
Movie lectures
A key part of your study material are the recorded lectures. These specially recorded live lectures with course author Mary Sharma and others provide a stimulating means of learning about the subject and help to bring the material to life. The lectures are accessed through the Online Learning System but can be provided on memory stick if you prefer. Nutrition Therapist Movie Lectures: 12 hours
Webinars
In addition to the movie lectures, live online webinars are provided as support to enhance and deepen your understanding of some key nutritional topics. You will have the opportunity to attend live webinars throughout the course, as and when they happen (usually monthly).
Tutor Group Meetings
You will be invited to online Tutor Group Meetings with your personal tutor and other students on the course for lectures and discussions.
Discussion Groups
You will be invited to an online discussion group with the course author every 6-8 weeks.
Online Clinics
You can also join our unique online clinical training events every 6-8 weeks. Study with one of our experienced nutritionists and teachers. Improve your case taking skills, case analysis, treatment plans and prescriptions.
Online Learning System
You will be able to access your course from anywhere at any time via the School's Online Learning System. In the secure sign-in area you can view the course materials, watch the movie lectures and webinars, upload assignments and keep track of your study. You will be able to set and alter your study deadlines, complete the online quizzes (to sense check learning and test yourself as you progress) and contact other students via maps, teaching groups or instant chat.
Course Books
Stage 3 Units 9-12 of the nutrition programme utilises the same two core textbooks that accompany the Nutrition Therapist course plus a Book List with essential books and further suggested reading in the course.

Diet and Nutrition
Rudolph Ballentine · ISBN 9780893890483
Essentials of Human Nutrition
Mann and Truswell · ISBN 9780199290970
Book List
The Nutritional Therapist Advanced course can be completed with the core books that accompany the course. However, if you are serious about becoming a Nutritional Therapist then you will require the essential Nutritional Therapist Advanced Book List.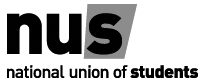 NUS Cards
As a registered member of the National Union of Students, UK students who enrol on this course can apply for a Totum card. This provides discounts for many things such as travel, food shopping, electrical goods, cinema tickets, fashion etc. Just ask about this when you enrol with us and we can send you the details.
More information
We hope you choose to enrol with us. If you have any questions or would like more information about the Nutritional Therapist Course please contact us, we are here to help.
Course fees & enrolling
You can enrol and pay online through the enrol section on the website.
Course Benefits
Advance your nutritional therapist training to Level 6
Written with a naturopathic and holistic perspective
In-depth clinical training with clinical observation
Clinical supervision with six live cases
Option to continue your study onto the Naturopathy Course
Printed course, binder and books sent through the post
Clearly presented, easy to follow and thorough in content
Personal tutors give guidance and feedback
Includes a Skype or phone tutorial

Online Tutor Group Meetings with your personal tutor

Online discussion groups with course teachers

Online clinics

with our experienced nutritionists and teachers

Movie lectures and video webinars on the subject
Access to the School's Online Learning System (OLS)
Highest level of support by email or post
Opportunity to attend live Webinars
Contact other students via closed Facebook group, instant chat, student maps and teaching groups
Study can be started and finished at any time
Work at your own speed and pace - timetable to suit you
No prior medical training is required
Continuous assessment provides ongoing feedback and motivation
There are no exams
Certificates are awarded on completing the courses
Course material is regularly updated
Federation of Nutritional Therapy Practitioners accredited
Society of Naturopaths accredited
NUS extra student discount card for UK students
Additional courses to enrol onto, to further your learning
We hope you choose to enrol with us. If you have any questions or would like more information about the Nutritional Therapist Advanced Course please contact us, we are here to help.
If you have any questions about this Nutritional Therapist Advanced Course please give us a call on 01453 709 709.


Prices & enrol online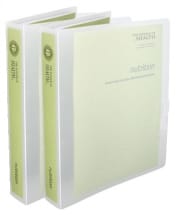 Nutritional Therapist Advanced Course Yr 3
Price includes:
Nutritional Therapist Advanced Course study guide
Units 9-12
Movie lectures
Core books
Tutor marking
Webinars
Discussion groups
Online clinics
clinical event
Tutor group meetings
Tutorial
1.5 year study period (can be done in 9-12 months)
Certification
Post & Packing
(Booklist required)