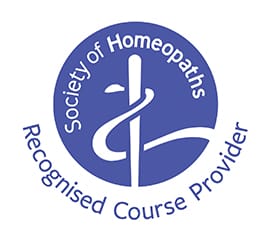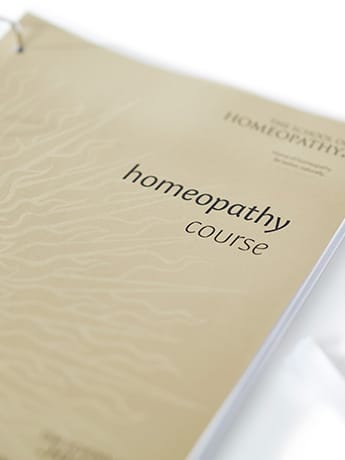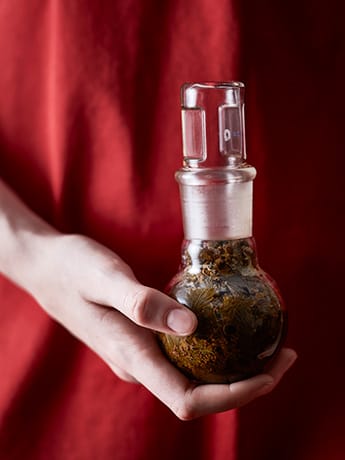 Homeopathy Year 2
Intro into Practice Course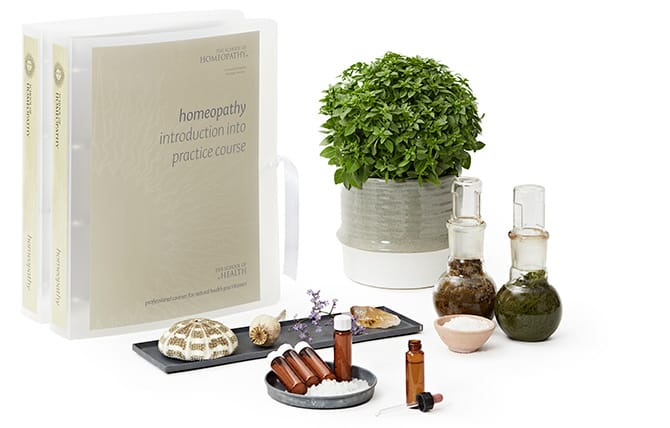 The Introduction into Practice Diploma Course is ideal if you wish to take the Foundation studies to the next level. The distance learning course looks at some of the deeper philosophical aspects of homeopathy and further investigates case taking in preparation for practise under supervision.

Units: 8-14
Study Hours: 800 - 900
Credits: 90
Time: Estimated 12 months (timing up to you)
Enrolment period: 2 years (with option to extend)
Books: Book list two is required for Units 8-14
Certification: Intro into Practice Diploma in Homeopathy
Study options: Correspondence (paper), e-learning (online) or attendance.
During this part of the home study course we focus upon casework, introducing you to both the theory and practical applications of two systems for interpreting imbalance and diseases: Hahnemann's theory of miasms and a system based upon constitutions and temperaments, the Mappa Mundi. The theory of miasms is developed in Misha Norland's book, 'Signatures, Miasms, AIDS' while lectures and audio tracks on memory stick extend this into the analysis of patients' cases to complement the classical methodology outlined in our distance learning Foundation Diploma Course. The distinctive approach of the School of Homeopathy is made evident through the application of the Mappa Mundi as well as the remedy signature teachings. These concepts are partly responsible for our uniqueness, alongside the nurturing tutoring and the academic rigour. It is often commented that many of our students find a spiritual connection to the work and to healing and, of course, we are delighted to be associated with this.
Year 2 Homeopathy Course Units 8-14
Unit 8 : Miasms
Unit 9 : Case Management
Unit 10 : Summary of Homoeopathic Principles
Unit 11 : Case Analysis Strategies
Unit 12 : Anamnesis of Acute & Chronic Disease
Unit 13 : Primary & Secondary Reaction
Unit 14 : Mappa Mundi

Read more about the full course contents here.
Society of Homeopaths recognised
The School of Homeopathy is the only School in the world with routes to recognition in the UK, US, Canada and Australia. We are the only School that has Society of Homeopaths recognition for our attendance and distance learning study methods for both UK and international students. Therefore, even if we do not have registration in your country of origin you are assured of an in-depth, quality program. Once you have qualified you will be a confident, competent homeopath who can go out there, roll up your sleeves and get to work helping people at the core level of their illness. Read more about course recognition on the School of Homeopathy website.

Course Materials
We send you the printed course manuals and movie lectures that accompany each of the course units plus access to the Online Learning System with everything else you require.

Course manual
The Homeopathy Introduction into Practice Course Year 2 Units 8-14 comes in a binder. Each of the units are around 20-30 pages. Each unit has a number of assignment questions to complete after studying the material, watching the lectures and reading the relevant part of the text books. All the work is to be submitted to your tutor for observation and marking, assessment and feedback.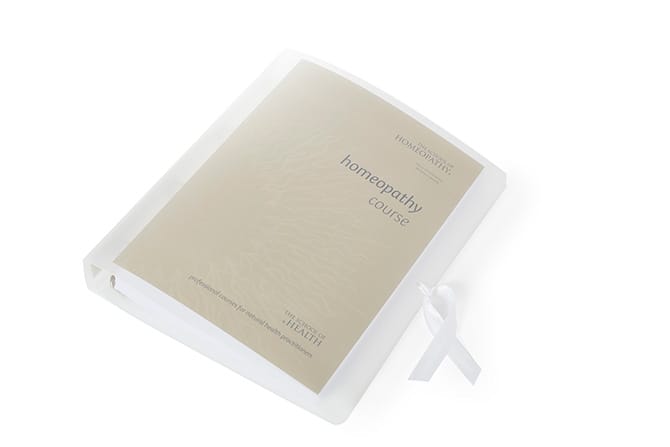 Personal tutor
When you enrol you will be assigned your personal tutor. All of our tutors come from the world of homeopathy and natural health and have a strong passion for the holistic way of life, plus they are selected for their nurturing mentor qualities. They will support you through your study, answering any questions that arise and marking your activities. The faculty in the head office are also available to assist as and when required. We are here to help and you can ask for support whenever you need it.
Tutorials
The course includes a one-to-one tutorial with your personal tutor. These take place over Zoom, Skype or phone. The tutorial is 20 minutes and is usually scheduled 3-4 months after you enrol onto the course.
Tutorials Upgrade Pack
If you would like a tutorial with each Unit of the course then you can purchase the Tutorials Upgrade Pack at the time of enroling. This will give you a 7 x 30 minute tutorials one at the end of each Unit after you complete the assignments.
Movie lectures
A key part of your study material are the recorded lectures. These are specially recorded live lectures with all the leading teachers at the School and many high profile international homeopaths and the School's Patrons. The movie lecture provide a stimulating means of learning about the subject and help to bring the material to life. The lectures are accessed through the Online Learning System but can be provided on memory stick if you prefer.
Webinars
In addition to the movie lectures, live online webinars are provided as support to enhance and deepen your understanding of some key homeopathic topics. You will have the opportunity to attend live webinars throughout the course, as and when they happen, (usually monthly).
Tutor Group Meetings
You will be invited to online Tutor Group Meetings with your personal tutor and other students on the course for lectures and discussions.
Discussion Groups
You will be invited to an online homeopathy discussion group with the course author every 6-8 weeks.
Online Clinics
You can also join our unique online clinical training events every 6-8 weeks. Study with one of our experienced homeopaths and teachers. Improve your case taking skills, case analysis, treatment plans and prescriptions.
Online Learning System
You will be able to access your course from anywhere at any time via the School's Online Learning System. In the secure sign-in area you can view the course materials, watch the movie lectures and webinars, upload assignments and keep track of your study. You can set and alter your study deadlines, complete the online quizzes to sense check learning and test yourself as you progress and contact other students via maps, teaching groups or instant chat.
Books
Book List Two complements this course.
Pathology & Disease
Alongside the Introduction into Practice Diploma Course, if you wish to go onto the Higher Diploma Course, you will also be required to start the School of Health's Pathology & Disease Diploma Course, unless you already have equivalent training.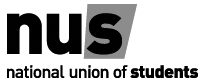 NUS Cards
As a registered member of the National Union of Students, UK students who enrol on this course can apply for a Totum card. This provides discounts for many things such as travel, food shopping, electrical goods, cinema tickets, fashion etc. Just ask about this when you enrol with us and we can send you the details.
More information
We hope you choose to enrol with us. If you have any questions or would like more information about the Homeopathy Foundation Course please contact us , we are here to help.
Course fees & enrolling
You can enrol and pay online through the enrol section on the website.
Course Benefits
Year 2 profesional training to become a homeopath
Option to continue your study onto year 3
in course asssessed video cases
Option to start clinical observation
Printed course, binder and books sent through the post
Clearly presented, easy to follow and thorough in content
Personal tutors give guidance and feedback
Includes a Skype or phone tutorial

Online Tutor Group Meetings with your personal tutor

Online discussion groups with course teachers

Online Clinics

with our experienced homeopaths and teachers

Movie lectures and video webinars on the subject
Access to the School's Online Learning System (OLS)
Highest level of support by email or post
Opportunity to attend live Webinars
Contact other students via closed Facebook group, instant chat, student maps and teaching groups
Study can be started and finished at any time
Work at your own speed and pace - timetable to suit you
No prior medical training is required
Continuous assessment provides ongoing feedback and motivation
There are no exams
Certificates are awarded on completing the courses
Course material is regularly updated
Society of Homeopaths accredited course
NUS extra student discount card for UK students
Additional courses to enrol onto to further your learning
We hope you choose to enrol with us. If you have any questions, or would like more information about the Homeopathy Introduction into Practice Course, please contact us, we are here to help.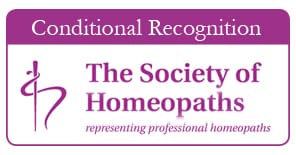 Deepen your knowledge and take your learning to the next level (year two of the course)


Prices & enrol online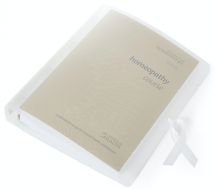 Homeopathy Yr 2 Intro into Practice Course Units 8-14
Price includes:
Homeopathy course study guide
Units 8-14
Movie lectures
Personal tutor
Tutor marking
Webinars
Discussion groups
Online clinics
Tutor group meetings
Tutorial
2 year study period (can be done in 12 months)
Certification
Post & Packing
(Booklist 2 required)