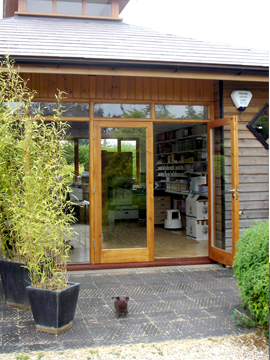 Privacy
Here we provide information about the security and privacy of personal data. We want all our students, graduates and customers to be confident of our systems and website are in-line with current laws, and good practice.
Data protection
We hold and process information about employees, students, and other data subjects for academic, administrative and commercial purposes. When handling such information, the School, and all staff or others who process or use any personal information, must comply with the Data Protection Principles which are set out in the Data Protection Act 1998 (the Act) and the EU General Data Protection Regulation (GDPR). In summary these state that personal data shall:
Be processed fairly and lawfully,
Be obtained for a specified and lawful purpose and shall not be processed in any manner incompatible with the purpose,
Be adequate, relevant and not excessive for the purpose
Be accurate and up-to-date,
Not be kept for longer than necessary for the purpose,
Be processed in accordance with the data subject's rights,
Be kept safe from unauthorised processing, and accidental loss, damage or destruction,
Not be transferred to a country outside the European Economic Area, unless that country has equivalent levels of protection for personal data, except in specified circumstances.
The School is an ICO (Information Commissioner's Office) registered data controller and we recommend to our clinical students that if they are storing sensitive or patient-related data electronically, they must register with the ICO, or with the equivalent body in their own country.
If you want to see a full copy of The School privacy policy please contact the head office.
Sharing contact details
We do not share your details with any third party organisations. The information we hold about you is for internal purposes only. We do display student details in the secure student sign-in area of the website (the Online Learning System) so fellow students can connect and choose to contact one another – this is done in line with data protection laws. However, if you do not wish to have your contact details shared with the student network please let us know, you can also opt out of sharing in the 'profile' area of the Online Learning System. We may also at times make photographic, video or audio recordings of the course or share exemplary examples of work to enhance the attendance and home study programmes.
Student Records
As a student, we know it is very important for you to have peace of mind when it comes to the confidentiality and safekeeping of your records. Our relationship with you is based on trust, and we are committed to keeping that trust! We have a strict policy on all student work and records, as follows:
We collect information about students for three reasons: to process an order, to provide you with the best possible service and, for enrolment and education purposes. For example providing your personal tutor with some background information about your education, interest and work experience.
Tutors keep student contact details and marking notes on the students they are responsible for, student records are either encrypted or kept under lock in-line with data protection laws. After a period of seven years of student inactivity after the student course expiry date, tutor's copies of student records are destroyed.
As an education establishment, head office have a duty to hold student grades for long periods should the student require proof of their study at any future time or where we are required to disclose by law.
Student assignment records are deleted after a period of seven years inactivity after the course expiry date, grades and tutor feedback are stored digitally for much longer periods (a life time is the aim).
Student records are strictly confidential and only shared with School faculty members if they require them for marking and quality assurance purposes. A student can request to see their own records at any time, if desired.
Student records would only be shared with outside parties under two circumstances:
1) Where we are required to disclose by law.
2) If a student requests us to, for instance, if they are taking advantage of one of our special offers and wish us to provide proof of their student status to a third party partner company, or registering/accrediting body.
You can check any of the information that we hold about you by emailing us. If you find any inaccuracies, we will delete or correct them promptly. The personal information that we hold will be held securely in accordance with our internal security policy and the law.
We rely upon our students and customers to keep us up to date with changing personal information, such as name changes, address, email or telephone numbers.
Samples of student's work may be used in the course for the reason of providing other students with model examples. If this happens, the student will be contacted and informed (as long as we have up to date contact information) and the students name will be removed and their identity protected.
You can check any of the information that we hold about you by emailing us. If you find any inaccuracies we will delete or correct it promptly! The personal information that we hold will be held securely in accordance with our internal security policy and the law. If you have any questions or comments about privacy, please contact us.
We updated our Privacy Policy in May 2018 to reflect recent changes in data protection laws. We'll continue to review our Privacy Policy to ensure information is always kept safe and secure.

Any questions regarding this Policy and our privacy practices please contact us.
Any questions... just give us a call on 01453 709 709