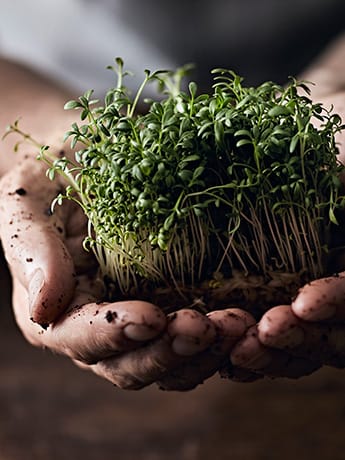 Nutrition Beginners Course
Content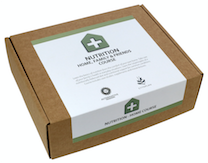 The Nutrition Beginners Course comprises of:
• Study of nutrition philosophy and methods
• The influence of Nutrition on health – Making the connection
• 14 Principles of a Nutritionally Balanced Diet
• Nutritional Support for 12 Common Conditions
• 12 Case studies
• Self-assessment questions and cases
• Health Questionnaire
• Tutor assessment and certificate
• DVD of lectures on nutrition
• Two books of nutrition
• Nutrition products (Supplements and Protein Bar)
• Voucher for additional nutrition study
• Vouchers for additional nutrition products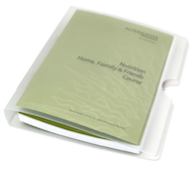 The beginners course
Here is a quick overview of each of the main sections:
Part 1 – The influence of Nutrition on health – Making the connection
The goal of a healthy body and mind is one that we can all aspire too, but how does what we eat and drink really affect this? This section helps you make the links of how what we take into our bodies affects its function at all levels of our being. It also provides a basic understanding of the digestive process and various specialist diets you may encounter.
Part 2 – Fourteen Principles of a Nutritionally Balanced Diet
Here we examine 14 principles that will support your journey to achieving a nutritionally balanced diet. From the need for adequate levels of water, to superfoods and the overall impact of stress and how this affects our digestion and our nutrient requirements.
Part 3 – Nutrients in Focus
This section looks at the role of the many nutrients we consume through food. Exploring each vitamin and mineral and listing its food sources that you can increase though your diet. It also covers the different life stages and how our nutritional needs change as we progress through life.
Part 4 – Nutritional Support for 12 Common Conditions
Here we take a look at 12 common conditions that you, friends or family may experience. We look at the background to each condition and a how optimising our nutritional intake of various nutrients could support.
Part 5 – Case Studies
This is where you can begin to put the information you have learnt into practice and plan out nutritional suggestions for a range of fictional people, presenting with a range of health complaints. These may resemble people that you know or even yourself and give an opportunity for further learning as you work out a plan to support them
Answers
This section holds all the answers to the self-assessment questions and cases and should not be looked at until you have attempted the questions yourself first.
Assignments
Once you have worked through the course, having completed all the self-assessment questions, watched the movies and read the books, you will be ready to tackle the assignments. These are optional. Please read the Assignments section to find out more.


Course Disc
The Course Disc provides a wonderful route for learning. It is divided into 24 chapters that spread across the main course sections. The movies follow the course, so you can watch the relevant movie as you work your way through the material. Nutritionist Mary Sharma, author of the Nutrition Therapist Course shares lectures on the science, diets, digestion, symptoms, managing health and specific digestive issues.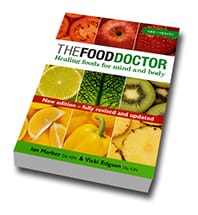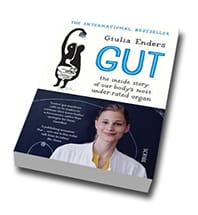 Course books
The Food Doctor: Healing Foods for Mind and Body,
Ian Marber & Vicki Edgson
'The Food Doctor', has sold over half-a-million copies worldwide. With the latest research, new and inspiring recipes and a new chapter on vegetarian and vegan eating, this invaluable guide will provide all the information you need to improve your health and wellbeing. Packed with nutritious advice, it introduces simple foods with amazing healing properties, gives the definitive list of the top 100 foods for health, vitality and happiness, and shows exactly what to eat to improve your energy, mood and stress levels. There are numerous small changes that you can make to your diet which make a real difference to how you feel. Along with hundreds of nutrition facts you'll discover which foods aid concentration, what can boost your energy or make you sleep better, and how to alter your diet to help with common ailments such as eczema, migraine, hayfever and arthritis. Including, with its expert but practical advice, case studies and 'food cures', health tips and delicious recipes, 'The Food Doctor' will help you to improve your mood and appearance, reduce your stress levels and boost your energy.
Gut, the inside story of our body's most underrated organ,
Guilia Enders
In Gut, Giulia Enders shows that rather than the utilitarian and let's be honest somewhat embarrassing body part we imagine it to be, it is one of the most complex, important, and even miraculous parts of our anatomy. And scientists are only just discovering quite how much it has to offer; new research shows that gut bacteria can play a role in everything from obesity and allergies to Alzheimers. Beginning with the personal experience of illness that inspired her research, and going on to explain everything from the basics of nutrient absorption to the latest science linking bowel bacteria with depression, Enders has written an entertaining, informative health handbook. Gut definitely shows that we can all benefit from getting to know the wondrous world of our inner workings. In this charming book, young scientist Giulia Enders takes us on a fascinating tour of our insides. Her message is simple if we treat our gut well, it will treat us well in return. But how do we do that? And why do we need to? Find out in this surprising, and surprisingly funny, exploration of the least understood of our organs.
Tutor marking
The fee for assessment and certification is included in the price of the Nutrition Beginners Course. Successful completion leads to the The School of Health 'Basic Nutrition' certificate.
Health Questionnaire
The Nutrition Beginners Course includes a personal health questionnaire that you can use as a starting point to the vitamins, minerals and other nutritional factors that may benefit your overall health.
Nutrition products
In creating this course pack we joined forces with three different partner companies: Cytoplan for the suppliments, Pulsin for the healthy snack bar and The Healthy House for water filters. All three companies share the same wellbeing ethos as The School of Health, all care passionately about holistic health and nutrition.
Nutrition Supplements
The Nutrition Beginners Course includes three supplements from Cytoplan.
1. Wholefood Multi
2. Immunovite or Foundation Formula 1
3. Krill Oil or Omega 3 Vegan
Cytoplan is a unique science-based supplement company exclusively supplying the needs of health care professionals and their patients. Cytoplan was founded in 1990, by practitioners with many years experience in nutrition science. They have been a leader in the field of food-based supplementation for many years.
Nutrition Protein Bar

The Nutrition Beginners Course includes Orange Choc Chip Protein Snack from Pulsin.



Additional Vouchers
Great savings! The pack comes with four vouchers:
The School of Health voucher worth £75.00 for additional courses with The School of Health.
30% off Cytoplan voucher that can be redeemed against additional nutrition supplements.
10% off Pulsin voucher on any of their nutrition products.
10% off Healthy House voucher for any drinking water or whole house water filter system.
Full course content
Welcome & Guidelines
Introduction

Part 1 - The Influence of Nutrition on Health - Making the Connection
1.1 How nutrition supports health
1.2 Basic naturopathic nutrition theory
1.3 Our basic composition
1.4 Overview of the digestive process
1.5 How the gut governs health
1.6 Impacts of a modern diet on health
1.7 Specific diets

Part 2 - Fourteen Principles of a Nutritionally Balanced Diet
2.1 Stress
2.2 Water
2.3 Nine a day
2.4 Dirty dozen and clean fifteen - the organic factor
2.5 Seasonal local food
2.6 The need for fibre and complex carbohydrates
2.7 Choosing a processed foods free diet
2.8 Sugar free for life
2.9 It's just not what we cook, it's the way that we cook it
2.10 Eat the rainbow
2.12 Superfoods
2.12 Fats
2.13 Quality protein
2.14 Whole person

Part 3 - Nutrients in Focus
3.1 Macro v micro nutrients
3.2 Maximising nutrients through food
3.3 The role of vitamins and minerals
3.4 Supplement tips, where diet may not be enough
3.5 General life stage nutrition requirements (children to the elderly)
3.6 Maximising digestion

Part 4 - Nutritional Support for Twelve Common Conditons
4.1 Stress
4.2 Constipation
4.3 Coughs and colds
4.4 Blood sugar balancing
4.5 Cystitis
4.6 Eczema
4.7 Acne
4.8 Pre menstrual syndrome (PMS)
4.9 Allergies
4.10 Irritable bowel syndrome (IBS)
4.11 Poor sleep quality
4.12 Fatigue

Part 5 - Case Studies
5.1 Introduction
5.2 Case check list
5.3 Cases

Case 1 Sarah
Case 2 George
Case 3 Jenny
Case 4 Michael
Case 5 Katie
Case 6 Billy
Case 7 Tina
Case 8 Milly
Case 9 Tony
Case 10 Margaret
Case 11 John
Case 12 Mandy

Answers
Self Assessment Questions A-I
Self Assessment Cases 3-12

Assignments
Guidelines
Questions
Forms

Health Questionnaire
Your views