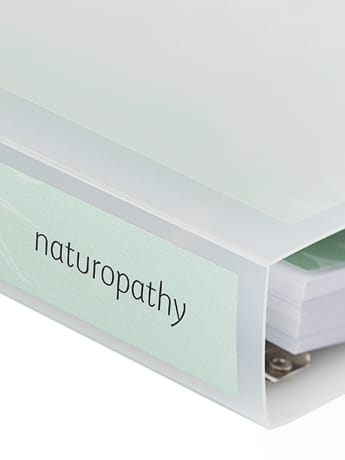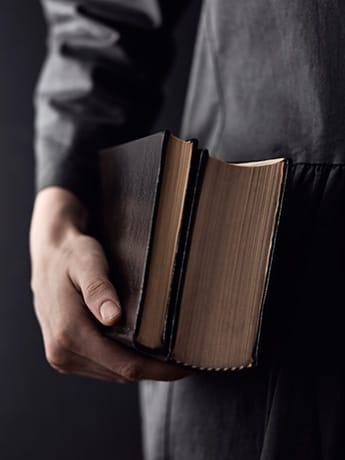 Naturopathy Course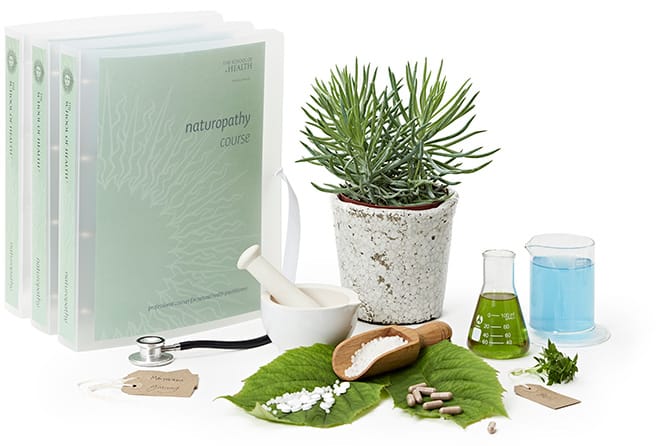 This course is accredited by the Society of Naturopaths and may be used in a variety of ways, for personal interest, as a foundation course (to learn about several types of medicine), as the start of your naturopathic training or, if you are already a therapist, as post graduate training to extend your practice to become a naturopath.
Naturopaths are trained in many natural health disciplines to become experts in holistic healthcare, enabling them to assist their clients from many different perspectives, selecting the optimum natural healthcare treatment plan. This course provides an in- depth study of Eastern medicine and Naturopathy. It is the only programme, to our knowledge, that combines the four main Eastern medicines and Naturopathy disciplines in one programme. The one-year course is written as a continual course and can be taken as a whole, or you can cherry-pick individual units.
Naturopathy is a blend of many different disciplines that were passed down through the ages. It has its roots in Eastern medicine and herbal lore and nature cure methods have been added over the ages. Knowledge of naturopathic philosophy will help you understand your client's symptoms, enabling you to unravel how they arrived at them. Not only does this help alleviate the symptoms but it also puts the client back in control of their health. This is the role of the naturopath as 'Docere' or teacher. This course is written in line with the National Occupational Standards (NOS) for the practice of Naturopathy.

The many naturopathic techniques and its philosophy are not considered 'scientific' and therefore much of this ancient wisdom is being dropped from modern courses or, at best, only receives a cursory mention. The result is confusion about what true naturopathic philosophy can teach us as practitioners. It also leads to its teachings being misunderstood and therefore not practiced effectively. This course seeks to address the lack of naturopathic teaching and also the lack of connections that are made between different symptoms. The body never acts against us and it has the capacity to rebalance itself under the right circumstances. The art of the naturopath is to make sense of the symptoms and to reassure the client that balance can be restored.
In our current environment we suffer many stresses, both emotional and environmental (to name but two) and these stresses immediately impact the body, causing dehydration and electrolyte imbalances. This is the beginning of symptoms, which are at first so subtle as not to be noticed. Once symptoms become apparent there are usually a few bodily systems involved. Unless we understand the initial cause we can only hope, at best, to palliate symptoms.
Mary Sharma, the course author, says, "Having trained in various disciplines over the years of being a practitioner and seeing how they all enhanced my understanding of health and disease I decided to write a course that I would have loved to have done 25 years ago, when I was first starting out on my alternative medical training. The course starts with Eastern medicine and provides a detailed study of Ayurveda, Chinese five elements, Tibetan Medicine and Unani (Greek/Persian) medicine. Once you have this grounding you then study homeopathic philosophy which underpins naturopathic philosophy. By the time you reach the naturopathic module you will find that the philosophy is second nature to you. The rest of the course builds on this foundation and covers iridology, hydrotherapy, an introduction to homotoxicology, psychology and psychosocial skills and finishes with a detailed module about dentistry and health. I have added this last module because I believe it is of the utmost importance for practitioners to understand the effects of dentistry and oral health upon the overall health of the body".
Please do read more about the course and if you have any questions just ask.
Naturopathy Course
Units: 1-10
Study Hours: 800-900
Time: Estimated 12 months (timing up to you)
Enrolment period: 2 Years (with option to extend)
Books: Purchased separately
Certification: Certificate in Naturopathic Medicine (Nat.Dip)
Study Options: E-learning (online) or Correspondence (paper)
The course is designed to be completed within 1 year but, as much of the learning is completed online with flexible deadlines, you can opt to study at a slower pace and complete the training over 2 years. In order to complete within 1 year the average student should expect to study for 14-16 hours per week. Towards the end of the course there will be a Clinical Summer School where you will advance your learning, meet other students and be able to put your knowledge into practice.
Aims of the course
To provide an in-depth study of the various alternative medical disciplines that underpin naturopathic philosophy and practice
To provide a teaching resource of several of the medical disciplines that are required to qualify for the title 'Naturopath ND' and the designatory letters ND
To provide a resource of the four main Eastern medicines which underpin Naturopathic and other alternative medical disciplines
To provide a detailed exploration of health and disease leading to an unrivalled understanding of how to approach your client's medical symptom picture
Case studies
Each Unit of the course includes a case to work on. This will give you a chance to put what you have learnt into practice. You will recieve full written feedback on each case.
5 Day Clinical Event
The 5 Day Clinical Event is led by course co-author and teacher Mary Sharma ND. You will learn how to put theoretical knowledge into practice in a safe therapeutic environment, and you will learn new methods so as to extend your practice, it is also a great place to ask questions, to listen and learn from each other and make new friends.

If you wish to register with the Society of Naturopaths (see below) as part of your study you are required to complete the face-to-face clinical practice. Courses run annually in Stroud, Gloucestershire. Contact us for exact dates. As we only run events once a year so it is a good idea to plan your study for an event. You need to have finished Unit 5 Naturopathy to be eligible to join the 5 Day Clinical Event. At the time of booking the 5 Day Clinical Event you will be required to pay a registration fee to secure your place. Before attending the event you will be asked to pay the course event fee. Accommodation and meal fees are not included and details of possible options will be sent upon registration.
Why study Naturopathy
Naturopathy is an amazing subject which offers a depth of understanding which many other medical disciplines can only hope to achieve. Its wisdom is based upon many traditions such as ancient medicine, psychology, homeopathy, medical herbalism, nature cure and hydrotherapy. This amazing combination of study can only serve to enhance your practice and provide you with a depth of understanding that is unparalleled by other medical disciplines.
Society of Naturopaths
The course is fully accredited by the Society of Naturopaths (SoN). If you have already trained to (or are in the process of training towards) the equivalent of level 6 in: nutritional therapy, or homeopathy, herbalism, acupuncture, traditional Chinese medicine, chiropractic or osteopathy, then this course (along with the level 6 qualification) meets the requirements to become a Naturopath ND and register with the Society of Naturopaths (SoN) as an 'Naturopath ND'.
Federation of Holistic Therapists
Students or graduates of our Nutrional Therapy, Naturopathy ND or Homeopathy courses can apply for membership with The Federation of Holistic Therapists. FHT is the UK's largest professional association for therapists, ensuring high standards in therapy education and practice since 1962.


Overview of the 10 Units
Unit 1: Ayurveda
History, Sankhya Philosophy, Tanmatra, the three Guna, the five elements, the Tri Dosha, 15 sub Doshas, the Dhatus and Srotas, Agni and Ama, Samprapti (the six stage disease process), faulty food combinations, diet and lifestyle to balance Doshas and for seasonal eating, Ayurvedic food energetics, herbs, basics of tongue diagnosis, yoga postures for balancing each Dosha. Read more about this Unit

Unit 2: Chinese Medicine
History (five phases/elements, stems and branches, development of traditional Chinese Medicine), yin and yang, the five fundamental textures, the organs, the six pernicious influences, the seven emotions, the eight principle patterns, theory of Ayurvedic acupuncture and the links between Ayurveda and Chinese medicine, Chinese five elements in detail, sheng and Ko cycles and nutrition and Chinese food energetics. Read more about this Unit
Unit 3: Tibetan and Unani Medicine
Tibetan medicine history and main concepts, the mind and the three mental poisons, the three humours, and 15 sub humours, Tibetan food energetics, diet, lifestyle, seasonal eating.
Unani medicine history and medical concepts, the four elements, temperaments and humours, maintenance of health, the disease process, Unani methods of diagnosis, Unani food energetics. Read more about this Unit
Unit 4: Homeopathy

History and philosophy of homeopathy, Herings Law of cure, Law of Similars, resonance of health and disease, miasms theory, flower formulas, tissue salts, proving of remedies, potentization, homeopathy in practice, homeopathic first aid, 50 common remedies to use in practice. Read more about this Unit
Unit 5: Naturopathy
History and development of naturopathy, modern naturopathy, naturopathic diet and lifestyle, therapeutic order, core principles, reductionism v vitalism, naturopathic philosophy, miasms and inherited factors, naturopathic view of disease, theory of naturopathic nutrition: electrolyte balance, acute and chronic eliminations, naturopathic case taking, naturopathic techniques. Read more about this Unit
Unit 6: An Introduction to Homotoxicology

The science behind homeopathy: Avogadro's constant, Nano dose, Arndt Schultz law, resonance. Sources of toxins, the basics of Homotoxicology: extra cellular matrix, regulatory systems, bioregulatory medicine, three pillars of homotoxicology, greater defence system, acidosis, immune by stander reaction, six phase table/disease evolution table; using simple homotoxicology remedies in practice. Read more about this Unit
Unit 7: Psychosocial Skills
Part 1: overview of psychotherapeutic interventions for alternative practitioners, psychotherapeutic models: psychodynamic, humanistic, transpersonal and cognitive behavior approaches; fight flight freeze responses and regulation, polyvagal theory, A-B-C- personalities, assessing stress trauma, the therapeutic process; the practitioner's role and the client's role; psychotherapeutic treatment strategies, projection and transference, psychotherapeutic intervention.
Part 2: the general adaptation syndrome (Selye), Allostasis and Allostatic load, PNEI, adverse childhood events, attachment issues, learned helplessness, stress and addictions, perception of stress, social economic status and health, adrenal fatigue, functional tests for adrenal fatigue, monitoring and supporting stress levels in clients, flower formulas, Bach remedies, Personality types. Read more about this Unit
Unit 8: Iridology
History of iridology, classical and modern iridology, anatomy of the iris, iris charts and zones of the iris, pupil size and shape, colour on the iris, stomach and intestinal zones, the collerette, common signs found in the iris; American, Australian and German constitutions; Emotional/behavioural iridology, miasms, modern iridology and latest research Read more about this Unit
Unit 9: Hydrotherapy
History, theory and practice: latent heat, the use of hot and cold, conduction and convection, hot and cold effects upon circulation and metabolism; importance of circulation, buoyancy, reflex areas and dermatomes, various hydrotherapy manipulations: showers, ablutions, affusions, alternating and contrast treatments, fomentations, compresses and packs, Balneotherapy (baths), internal therapy. Read more about this Unit
Unit 10: Dentistry and Health
History, the research of Weston Price, Royal Lee, Percy Howe, Drs Mellanby; teeth, meridian charts and dental foci; tooth anatomy, the gut-mouth connection, oxidative stress, dental pathology; effects of modern dentistry on health: extractions, implants, galvanism, root canals; mercury removal and protocols; detoxification procedures, lab tests, oral health suggestions Read more about this Unit

Course Materials
We send you the printed course manuals and movie lectures that accompany each of the course units.

Course manual
The Naturopathy Course Units 1-5 comes in one binder, units 6-10 in another. Each unit has a number of activity questions to complete after studying the material, watching the lectures and reading the relevant part of the text books. All the work is to be submitted to your tutor for observation and marking, assessment and feedback.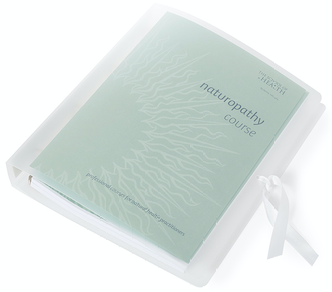 Personal tutor
When you enrol you will be assigned your personal tutor. All of our tutors come from the world of natural health and have a strong passion for the holistic way of life, plus they are selected for their nurturing qualities. They will support you through your study, answering any questions that arise and marking your activities. The faculty in the head office are also available to assist as and when required. We are here to help and you can ask for support whenever you need it.
Tutorials
The course includes a Skype or phone tutorial with your personal tutor. The tutorial is 20 minutes long and is scheduled 3-4 months after you enrol onto the course.
Movie lectures
A key part of your study material are the recorded lectures. These specially recorded live lectures with course author Mary Sharma and others provide a stimulating means of learning about the subject and help to bring the material to life. The lectures are accessed through the Online Learning System but can be provided on memory stick if you prefer. Naturopathy Movie Lectures: 31 hours
Webinars
In addition to the movie lectures, video webinars are provided as supporting material to enhance and depend your understanding of some key nutritional topics. You will also have the opportunity to attend live webinars throughout the course, as and when they happen (usually bi-monthly).
Online Learning System
You will be able to access your course from anywhere at any time via the School's Online Learning System. In the secure sign-in area you can view the course materials, watch the movie lectures and webinars, upload assignments and keep track of your study. You can set and alter your study deadlines, complete the online quizzes to sense check learning and test yourself as you progress. You will also be able to contact other students via maps, teaching groups or instant chat.
Course Books
This course comes with a recommended booklist. Please contact us for more information.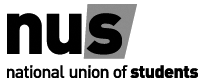 NUS Cards
As a registered member of the National Union of Students, UK students who enrol on this course can apply for a Totum card. This provides discounts for many things such as travel, food shopping, electrical goods, cinema tickets, fashion etc. Just ask about this when you enrol with us and we can send you the details.
Becoming a Naturopath ND
In order to become a Naturopath ND, you will also need to have studied medical science (Anatomy, Physiology and Pathology), plus a naturopathic discipline as a specialism, such as Nutrition, Homeopathy, Acupuncture or Herbal Medicine. We offer courses in Homeopathy (level 6 equivalent) or Nutritional Therapy (level 5 or 6 equivalent) which make an ideal accompaniment to this course. We also have medical science courses in Anatomy & Physiology (level 3 equivalent) and Pathology & Disease (level 4 equivalent).
Graduates and therapists who complete this course, and meet the requirements as listed above, with the required face-to-face clinical training, are eligible to use the title Naturopath ND after their name and register with the Society of Naturopaths. For more information about becoming a registered Naturopath ND please contact us.
More information
We hope you choose to enrol with us. If you have any questions, or if you would like more information about the naturopathy course, please contact us, we are here to help.
Course fees & enrolling
You can enrol and pay online through the enrol section on the website.
Course Benefits
Written with a naturopathic and holistic perspective
Printed course, binder and books sent through the post
Clearly presented, easy to follow and thorough in content
Personal tutors give guidance and feedback
Includes a Skype or phone tutorial
Movie lectures and video webinars on the subject
Access to the School's Online Learning System (OLS)
Highest level of support by email or post
Opportunity to attend live Webinars
Contact other students via closed Facebook group, instant chat, student maps and teaching groups
Study can be started and finished at any time
Work at your own speed and pace - timetable to suit you
No prior medical training is required
Continuous assessment provides ongoing feedback and motivation
There are no exams
Certificates are awarded on completing the course
Course material is regularly updated
Society of Naturopaths accredited
NUS extra student discount card for UK students
Additional courses to enrol onto, to further your learning
A programme that combines the four main Eastern medicines with Naturopathy disciplines.


Prices & enrol online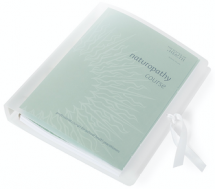 Naturopathy Course
Price includes:
Naturopathy Course study guide
Units 1-10
Movie lectures
Tutor marking
Webinars
Discussion groups
Tutor group meetings
Tutorial
2 year study period (can be done in 1 year)
Certification
Post & Packing
(Booklist required)
You may also like...