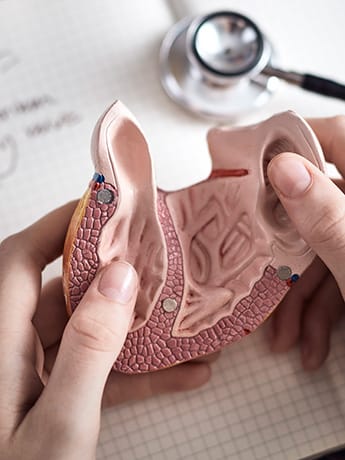 Studying medical science
A qualification in Anatomy, Physiology and Pathology is a prerequisite for many courses which lead to professional qualifications in alternative or complementary medicine. Our distance learning courses, which are available via correspondence and online, have been designed to supplement learning for those wishing to progress to the study of natural health therapies. Whether you are studying to be a nutritionist, homeopath, herbalist, naturopath or a yoga instructor, our courses will provide a high level of knowledge in medical science required for these practices.

From the 'What is medical science?' page you can see how important it is to study medical science. Conventional medicine uses a specific vocabulary so we also have to understand this in order to maximise our communication and collaboration with the medical profession which provides the primary health care for the population. All respected natural health professionals will have a qualification in Anatomy and Physiology and, if appropriate, in Pathology and maybe Nutrition. Our correspondence and online courses are designed specifically to provide that education and are appropriate for transfer across the various natural health modalities. We acknowledge the importance of your patients having total confidence in your professional ability.
We offer two courses:
Anatomy and Physiology. In this course you will learn about all the components of the human body and how they should work in healthy individuals. Starting with the very basic cell and tissue components you will understand how they interlock to comprise the organs and then become integrated as systems like the digestive system, endocrine system or reproductive system for example. Their relevance to the holistic model is unique to these courses.
Pathology and Disease. This course builds on the knowledge acquired in Anatomy and Physiology and involves studying the development of disease states that impair the normal functioning of the human body. It also takes into account other factors, such as genetic inheritance, lifestyle choices, environmental factors and basic nutrition, which all affect the health of the population. Again, this course also embraces the philosophy of an holistic health model while retaining the essential medical knowledge and language essential for communication with the medical profession.
Together these two distance learning courses provide you with a solid basis for most natural health modalities. Health awareness is one of the fastest-growing industries in the world as people are more conscious than ever of taking responsibility for their health and wellbeing. Our school prides itself on providing high standard distance learning courses via correspondence and online. So, if you find it difficult to attend a college course, this could be the ideal learning solution for you. Our Medical Science courses are the equivalent to two 'A' levels (The Anatomy and Physiology course is at NVQ Level 3 and the Pathology and Disease course is at NVQ Level 4). All our courses are accredited by professional bodies.
If you take the medical science courses with a view to further study at our school you may enrol in your chosen course and also study the medical sciences alongside at your own pace. The correspondence and online courses are designed to be studied at a manageable pace to fit around your lifestyle and other commitments. The only requirement is that if you intend to practise your chosen therapy you have to have completed and passed the medical science courses before you are allowed to graduate as a therapist. But you may only want to study medical science to improve your own health and wellbeing!
Natural health professionals have qualifications in Anatomy, Physiology and Pathology.


You may also like...