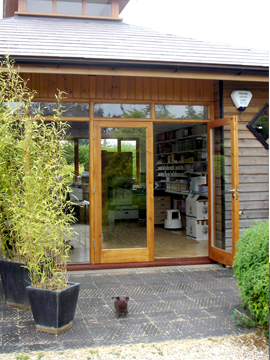 Returns & Refunds
We offer a 14-day full money back guarantee on most items purchased from us (in line with UK & EU regulation), and the possibility of a 3-month partial refund policy on home study courses, after being assessed.

Within 14 days: full refund (all items except digital services)
We can accept return of unwanted items and cancellation of home study courses, in line with our refund policy, provided you have not accessed or downloaded any content from the Online Learning System and the goods are completely unused. Please contact us in the first instance, in writing, within 14 days after receiving the goods. You then have 14 days to return the goods, following these steps
Digital goods and services
Please be aware that, as soon as you download, access or stream content from the Online Learning System, you will lose your right to the 14-day right to cancel the course. Due to the nature of digital goods, and in line with UK & EU legislation, we do not accept returns for: CDs, DVDs and Data discs.

What to do:
STEP 1: Start off by sending us an email or letter within 14 days of receiving the items stating your wish to cancel your order and we will send you a Cancellation Form. Please do not send anything back without first hearing from us and receiving our Returns Cancellation Form.

STEP 2: Materials need to be returned within 14 days from receiving the Returns Cancellation Form. All returned items must be received by us in perfect condition with the packaging un-opened and the goods unused. This will probably require you to add new/extra packaging and you will need to cover the costs of returning the goods. Please use a recorded delivery service, as we cannot be held responsible for non-delivery of returned items.
STEP 3: We will refund the price of the goods once they have been received and checked and the amount relates to the fees applied at the time of purchase. Course registration fees and delivery costs are non-refundable. The refund will be made as soon as reasonably possible and within 30 days from the day you cancelled in writing.
Within 3 months: partial refund (for home study courses only)
Beyond the 14-day period, if you wish to withdraw from your course for good reason, a partial refund may be granted if you purchased the course with tutor marking, are still inside the three-month period and have not accessed the online learning system or submitted work to your tutor for marking. Please bear in mind that this is not a given statutory right and we offer this possibility in the spirit of good will. In the first instance, we will do all we can to understand your problem and offer help to see if there is a good way forward - we find a lot can be gained through having this conversation. If all the above criteria have been met and we agree that you have good reason to withdraw, then a partial refund for the tutor marking element of the course may be granted. The tutor marking amount equates to 40% of the course fee excluding registration and any digital goods that have been accessed.
What to do:
STEP 1: Start off by sending us an email or letter within 3 months of receiving the course, stating your wish to withdraw from the course and giving your reasons. Please do NOT send anything back to us, as we cannot accept returned materials after the 14 day cooling-off period.

STEP 2: The Course Manager will then contact you to discuss the issues you have raised and together you will see if you can find a good way forwards. Quite often, a new student will have worries or problems that can be helped with some care and attention and our team are here to do all they can to support and assist in helping you to get settled in and off to a good start. You are never alone!
STEP 3: If both parties agree that there is no resolution to the issues raised, then we will advise if a partial refund may be granted. The maximum amount that can be refunded is 40% of the course fee excluding the non-refundable registration fee and delivery costs. The Course Manager will advise about this.
Refunds - School of Homeopathy Attendance Course
Places are limited on the Attendance Course and, when you enrol, you are making a commitment to pay the annual fees in full. This commitment applies whether you are paying in full beforehand or by monthly instalments. Fees must be paid up in full before the end of the academic year in order to move into the next year of study. A refund will only be considered in the case of certain unforeseeable circumstances, such as bereavement, pregnancy and moving overseas, and at the discretion of the directors. Anyone who chooses to leave midway through the year will be required to pay the outstanding balance of the annual fee when they leave, and will be required to re-join that year group upon return to the School.
Refunds - Events
4 or more weeks notice – We can give a 50% refund or reschedule.
2-4 weeks notice – We can give a 25% refund and maybe reschedule.
Less than 2 weeks – There is no refund offered with no obligation to reschedule your course date.

You can reschedule once and only to a course that takes place within 12 months of your original booking. Rescheduling an event will incur a £15 admin fee.
Cancellation of an Event
Occasionally there may be insufficient numbers of students to allow a training day to proceed, and if this happens the following procedure will take place:
Notice will be given by email and a telephone call at least five days before the course start date.
Students will be given the opportunity to reschedule their course to another date. You can only reschedule once and only to a course that takes place within 12 months of your original booking.
If there is no convenient date for rescheduling then students will be fully reimbursed.
We cannot compensate for any travel or accommodation costs incurred.
Faulty Items
Should you receive any items that are damaged please write or email us within 14 days and we will advise about how to proceed. Please provide as much information as possible when contacting us, including your order number, email and a daytime contact number in case we should need to call you.
If you need help or have any questions, please contact us.
Any questions... just give us a call on 01453 709 709