Animalia
Norland, Luke
Printed in the UK, hardback, 546 pages
ISBN
9781908127426
Size
155 x 235mm
Weight
1.35kg
RRP
£59.99
Price
£57.00
Animalia aims to simplify the process of researching animal remedies for both students and seasoned professionals alike. This practical book illuminates the Homeopathic themes of 6 animal families through the prism of mythology, mappa mundi, provings, cases and repertory. There is also a useful appendix on the miasms and their mythological correspondences. Beginning with a broad outline and differentiation of the 3 main kingdoms (animal, plant & mineral), and a comprehensive introduction to the circle of elements, Luke goes on to outline themes of the Spiders, Birds, Insects, Mammals, Snakes and Sea animals. He synthesises provers' expressions from a diverse selection of classical and modern texts to give an insight into the raw human experience of the different remedy states belonging to each group. Then he gives portraits of a wide selection of individual remedies from within each group, where you will find source information, characteristic rubrics, extracts from the provers and case examples. These portraits are designed to sit alongside existing materia medica, focusing on the singular expressions that may with time and further clinical use become guiding symptoms.
Luke has a talent for organising a broad spectrum of reference material - adding nuance and giving shape to the symptoms so that the Homeopath can be guided to the mode of action of each remedy, whilst keeping in mind the broad themes of the family.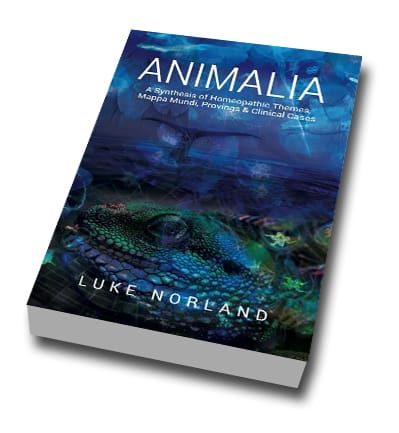 Contents
Chapter 1 INTRODUCTION
Humans that resonate with Animal remedies
Overview of Animals in Nature
Common Animal Themes
Comparative study with Minerals and Plants
Mappa Mundi
Vertical Axis: Fire - Air
Horizontal Axis: Earth - Water
Sanguine-Melancholic Axis (Dilation-Contraction)
Choleric-Phlegmatic Axis (Dynamic-Static)
Astrological Mythology in the Animal Kingdom

Chapter 2 ARANEAE / SPIDERS
Mythology
Spiders in Homeopathy
Mappa Mundi
Themes
Remedies
Repertory

Chapter 3 AVES / BIRDS
Mythology
Birds in Homeopathy
Mappa Mundi
Themes
Remedies
Repertory

Chapter 4 INSECTA / INSECTS
Mythology
Insects in Homeopathy
Mappa Mundi
Themes
Remedies
Repertory

Chapter 5 MILKS / MAMMALS
Mythology
Milk remedies in Homeopathy
Mammalian qualities
Mappa Mundi
Themes
Remedies
Human Milks
Animal Milks
Mammal remedies (not prepared from milk)
Repertory

Chapter 6 OPHIDIA / SNAKES
Mythology
Snakes in Homeopathy
Mappa Mundi
Themes
Remedies
Repertory

Chapter 7 SEA ANIMALS
Mythology
Sea Animals in Homeopathy
Mappa Mundi
Themes
Remedies
Repertory

Chapter 8 MYTHOLOGY AND MIASMS
Acute to Sycotic
Cancer to Syphilis

Index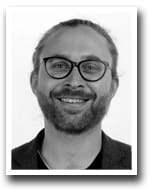 About the author
Luke Norland is an innovative UK homeopath and international teacher who is totally immersed in the Homeopathic way of life - growing up with The School of Homeopathy, started by father Misha in 1981. He is the author of the 'Thematic Repertory' - featuring 92 themes to represent complex mental/emotional states - helping to simplify the analyisis process of cases with a psychological focus. He has also edited several provings including 'Choleopus didactylus' (Two-toed sloth).