The Faculty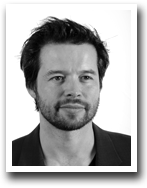 Mani Norland
Principal & Managing Director

Born in 1971 and brought up by a hippy turned homeopath, lets just say I had an alternative childhood. In a bid to escape the holey clothes I made a break for London and the design industry.

Having worked in many of London's leading agencies my last role was as creative director at 20|20, one of Europe's premium design, branding and strategy consultancies. Over the ten years, among many others, I re-positioned: Ellesse, KwikFit, Sky, Sainsbury's and The Olympics (Greece). I enjoyed the work, I had a lot of fun, I got out of holey clothing, but ultimately my past was catching up with me and bigger ideas were brewing.

I had dreams that involved helping people not businesses. I wanted to enrich lives not wallets. I wanted to give something back at a more meaningful level. Whilst I enjoyed design, branding and strategy I felt it could all be put to better use.

So I went full circle and back to my dad and enrolled on his homeopathy course. I soon learnt that many of the concepts in business and branding are not so dissimilar to Homeopathy - both are about the well-being of an organism, both are about the discovery of a central state or idea and the healthy expression of that state.

So in a final break from the rat race my wife, Amanda and I left our jobs, left London, moved to Devon, and bought The School of Health so we could turn our dreams into reality.
Our tutors are always on hand if you have any questions during your study