The Essence of Materia Medica
Vithoulkas, George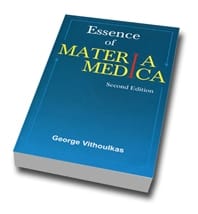 Printed in India, paperback, 218 pages.
ISBN
8170211387
Size
138 x 214mm
Weight
0.24kg
Price
£8.50
From the inside cover:
The treatment of fiftyone remedies in this volume is an illustration of what is meant by carrying the Materia Medica in one's head for use at the bedside!
It is hoped in this improved edition, this book will prove a befitting companion to the author's other work which Dr. Bill Gray of USA has called "a landmark work" and help further comprehension of the "seemingly miraculous method" of cure!

About the author:
George Vithoulkas (born 1932)
George lives on the island of Alonissos, Greece. It was in 1960 in South Africa that he began his homeopathic studies and these were then continued in India. Since 1967 he has been teaching classical homeopathy. In 1994, he opened the now world-famous International Academy for Classical Homeopathy on the Greek island of Alonissos. His outstanding contribution to classical (Hahnemannian) homeopathy has helped to reinstate it in Europe and the United States. For this he was awarded the Alternative Nobel Prize in 1996. George has written books for both the layperson and the homeopathic practitioner. His works have been translated into more than twenty languages, and it's easy to see why. George's clear presentation and penetrating studies are a landmark in the world of homeopathy.