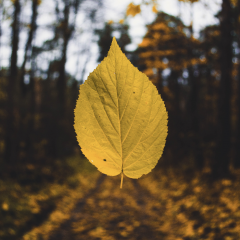 Live well naturally during Autumn and Winter
During the autumn and winter months we need to focus on boosting our circulation, immune system and energy levels to avoid the winter blues. Many people also suffer from mild to moderate depression at this time of year – seasonal affective disorder (SAD) - colloquially referred to as the "winter blues" - but there are a number of things you can do to put a spring back into your step.
Follow our top 10 tips for boosting vitality during the colder months:
Give your immune system a boost with winter berries, which are rich in immune boosting antioxidants called polyphenols.

Eat what's in season – including beets, squashes, parsnips and sweet potatoes. Seasonal foods are fresher than those that have been artificially stored and help to keep us in harmony with nature.

Avoid too many cold foods and instead focus on nourishing homemade soups, stews and curries packed with vegetables and pulses.

Add warming spices to your meals to boost circulation. Ginger, black pepper and cinnamon can all be used in sweet or savoury dishes.

Stewed fruits such as apples, pears and berries can be stirred into yogurt or porridge oats for a nutritious and fulfilling breakfast.

Keep hydrated with plenty of moisture-rich foods. As well as soups, a high proportion of daily fluid intake can be gained through vegetables.

Eat oily fish, nuts and seeds to maintain omega 3 levels – this has been shown to benefit winter depression as well as combat dry skin.

Supplements to consider during winter include vitamin C, Vitamin D, B12 and zinc – these help to boost immunity, energy and wellbeing and are readily available.

Keep active and try to get outside for a 20 minute walk during the daylight hours each day - this mood-booster also helps to top up your Vitamin D levels.

Dry skin brushing is an excellent way to warm the body and stimulate circulation, for glowing winter skin.
Photo by Sandis Helvigs on Unsplash
Tags: winter blues | immune system | circulation
This entry was posted on 29 October 2020 at 14:50 and is filed under Health | Nutrition | Mental health.