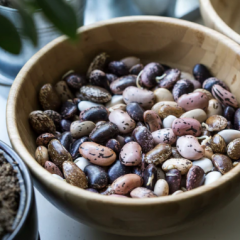 Six Super Snacks: healthy lockdown snacking
Being locked down at home all day has likely led to an increase in snacking for many of us. There is often an added desire to snack when we are anxious, so it is easy to see how snacking can get out of control. But it's perfectly possible to have satisfying snacks without feeling guilty – below are 6 of our favourites:
Popcorn
Often thought of as an unhealthy treat, natural popcorn is high in fibre and low in calories. Un-popped grains are cheap to buy, easy to store and quick to pop at home in a saucepan with a lid.
Nut butter
Whether you choose peanut, almond or cashew – nut butters are high in protein and healthy fats, and just a teaspoon can satisfy the appetite due to their low glycaemic index. Look for brands made from just the whole nut with nothing added. Fill a celery stick with nut butter for an extra crunch – it's surprisingly tasty!
Roasted beans
If you're craving a savoury snack then roasting some edamame or broad beans slowly in the oven gives a high protein, low GI snack – even if you sprinkle on a little sea salt it is still healthier than a bag of crisps
Natural yogurt
Delicious and creamy, natural or Greek yogurt makes an excellent alternative to cream or ice cream, served with fruit or sprinkled with nuts and seeds
Frozen grapes
For those hot sunny days when the ice-cream van is nowhere to be seen, freeze grapes on cocktail sticks to make fun, mini ice pops
Vegetable crisps
Using a vegetable peeler, you can make delicious veggie crisps from wafer thin slices of root vegetables like carrots, potatoes and parsnips. Toss in a little oil and sea salt and bake for 15-20 minutes on a medium heat, checking regularly until they just start to brown
Photo by Milada Vigerova on Unsplash
Tags:
This entry was posted on 28 April 2020 at 12:40 and is filed under Health | Nutrition.