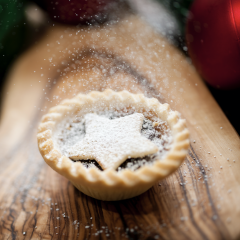 A healthy take on mince pies
It's that time of year again when we start thinking about all the Christmas goodies we might have over the next few weeks. For those trying to follow vegan, gluten free, low sugar or lactose free diets this time of year can be tricky - you either find yourself buying pricey 'free from' alternatives or going without some of your Christmas favourites altogether.
But with a little knowledge and confidence you can easily adapt recipes to your needs. Below we show you the ropes with mince pies. Your friends and family might even prefer these!
Mince pies contain three basic ingredients – fat, flour and a fruity filling. All of these things can cause problems for some people, so here are some delicious ideas to improve on each and every one of these components:
Fat
Vegans or those with lactose-intolerance might simply choose a dairy free spread to replace butter in pastry recipes. But for an even healthier alternative why not use coconut fat instead? Although it is technically a saturated fat it's structure and metabolism is very different to other saturated fats, and has numerous listed health benefits. It melts very easily so your pastry will feel slightly different as you work with it, but fear not - it will be light and crisp after cooking.
Flour
Again, you might simply choose from any of the gluten free flours widely available in the supermarkets. Pasty doesn't need to rise so gluten free flours work really well (as opposed to cakes and breads which can become heavy without the stretchy quality of gluten). You can also experiment with your own combinations – chickpea flour mixed with rice flour in a 55/45 ratio works well and due to the colour of chickpea flour your pastry will certainly be golden! You can also make a tasty pastry with chickpea flour alone, although it tends to be quite crumbly so be prepared to add a little extra water and perhaps a dash of maple syrup until you get a workable consistency.
Filling
Dried fruit is high in sugar – fact. It is probably one of the most widely misunderstood foods with many people still thinking of dried fruit as a great healthy snack. But if you struggle with blood sugar control or sugar cravings you should view dried fruit with caution. Experiment with making your own mincemeat using one third of the usual quantity of sweet dried fruit (like raisins and sultanas), one third chopped nuts (walnuts and pecans are perfect, and help with blood sugar balance) and one third fresh (or fresh-frozen) fruit – cherries work well and cranberries are perfect if you are used to eating low sugar foods and prefer a slightly tart taste. Blend an orange, half a lemon and half a cooking apple to make a paste and mix with the other fruit, tasting and adjusting the quantities as you go. You can even add a splash of brandy and leave to marinade for up to 24 hours before baking – it is Christmas, after all!
Tags:
This entry was posted on 19 December 2019 at 13:32 and is filed under Alternative Medicine | Inspiration | Environment | Health | Nutrition.