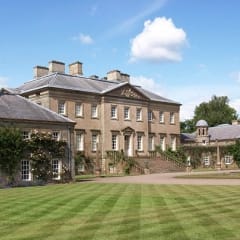 The Prince will see you now: Charles opens 'holistic' clinic at the stately home he saved for the nation
Prince Charles is creating a state-of-the-art clinic that will offer free 'holistic' care for patients referred by NHS doctors.
Charles, who has faced criticism in the past for his support for complementary health therapies, has won backing from the NHS and local authorities for his Health and Wellbeing Centre, which will assist patients battling a range of illnesses, from cancer to obesity.
The centre will be built in the grounds of Dumfries House, a stately home in Ayrshire that the Prince saved for the nation a decade ago.
Besides complementary therapies, the purpose-built centre will offer fitness and education programmes.
It is not known which therapies will be used at the new centre, but a conference on 'integrated' approaches to women's health at the mansion this autumn will explore homeopathy, reflexology and acupuncture.
For ten years, Dumfries House has been run as a tourist attraction and community centre, but the Prince has also used it to promote some of his utopian ideas, such as championing traditional crafts.
The bill for constructing the new Health & Wellbeing Centre – one new building and two converted lodges – will be covered by private donors.
The cost of running the service is covered by the profits that Dumfries House makes as a tourist attraction.
Patients who are referred to Dumfries House do not have to pay for the service, nor is there a charge to the NHS.

To read more please click here
This entry was posted on 19 July 2017 at 16:24 and is filed under Homeopathy | Alternative Medicine | Health.