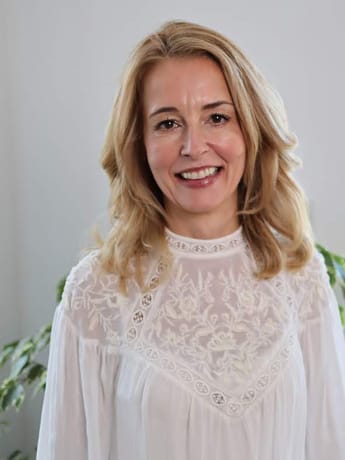 The Faculty
Nicky Sainty
Teacher & Tutor


Nicky's interest in natural health took hold after 5 years of trying to conceive. Step-by-step she started to make significant changes to her health. She soon realised the detrimental effects caused over many years from life in the fast lane from both her career and a busy social life. In 2012, when her father was diagnosed with a Grade 4 brain tumour, she put the wheels in motion to seriously study and learn wholeheartedly about the application of Nutritional Therapy. She wanted to learn to be able to help others stay well and help prevent the progress of serious disease. She chose to study at The School of Health, realising that their core principles were a complete match with hers - she never looked back! Nicky qualified in 2018 with a Diploma in Nutritional Therapy then went on to study Kinesiology techniques, Phytobiophysics, Blood Types, Biometrics and DNA analysis.
She currently runs her own private practice, as well as writing and producing online digital health programmes specialising in Blood Types for clients, along with training and coaching practitioners in this specialist area. More recently she takes great pride in being a tutor for the School of Health's Nutrition students.

Nicky loves being able to share her knowledge, guiding, coaching and providing different angles to spark thought processes for students which they may have not considered previously. This is synergistically rewarding as she equally receives food for thought from students' views, opinions and findings. She says that the unique take from each graduate is inspiring and, in turn, she likes to motivate and breed confidence and a 'can do' attitude.
After qualifying Nicky immediately started up in private practice, consulting 1-1 with clients, applying her nutritional knowledge, lifestyle advice and food testing via kinesiology to facilitate and empower the person to take back control of their own health. She also uses the application of Phytobiophysics, where applicable, and encompasses the clients blood type into recommendations. She wrote and created a successful group programme where all participants achieved positive results, before then turning her attention to producing online health courses for consumers. Nicky utilises practical business experience from her previous career to support students and practitioners in starting up in business and moving their businesses forward.
Nicky is a proud mum to her beautiful daughter, Olivia. Genetically Olivia is a Type A, same as her dad, but very much like her mum in determination and strength (Type O)! She also adores her rescue dog, Sonny, who is such a kind and gentle soul, always welcoming her with love and licks! Nicola loves keeping fit, being active outdoors, jogging in the hills, hitting the gym and learning something new every day! She continues to expand her own studies in the field of blood type, ancestral influence on health, nutrigenomics and epigenetic expression.
Diploma in Nutritional Therapy (School of Health)
Diploma in Anatomy & Physiology (School of Health)
Muscle Testing Skills (Kinesiology) - Various techniques (Terry Larder, Leicester)
Phytobiophysics Level 1 - Pauline Noakes (INH)
DNA analysis - Opus 23
Society of Naturopaths (Associate)
"Fresh first! Always reach for fresh food first before opening the cupboards! Both your body and your pocket will love you for it! Keep it in sight as an easy visual clue."
'Fresh first!' Always reach for fresh food first before opening the cupboards!