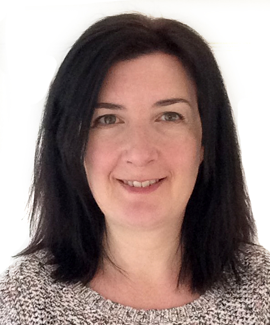 The Faculty
Michele Wood
Tutor & Writer


Michele's interest in complementary healthcare started in 1997 when she qualified as a practitioner in Aromatherapy and Indian Head Massage. She had never been keen on medication and wanted to explore natural ways to improve health and wellbeing. She was inspired to study nutrition after reading that cherries could have similar analgesic effects to ibuprofen and she went on to gain her Diploma in Nutrition and qualify as a lecturer for Higher Education. She is particularly interested in the effects of sugar and insulin on the body and is excited by the emerging research on the benefits of intermittent fasting to a whole range of chronic conditions.

Michele currently works on a freelance basis, researching and writing nutritional articles as well as tutoring students of Nutritional Therapy and Anatomy & Physiology for the School of Health. She also supports a weekly singing group for people with chronic lung conditions.

Michele's favourite part about being a tutor is helping people to realise their dreams and reading the introductory assignments that students write. Every one of our students is unique and it is wonderful to read about the different paths that have led people to study natural therapies.

Michele gained a Diploma in Nutritional Medicine from the Plaskett Nutritional Medicine College (PNMC) which she later topped up to a BSc at Thames Valley University. She also holds ITEC professional diplomas in Massage, Aromatherapy, and Indian Head Massage and has taken a short course in Flower Essence therapy. In 2006 she obtained a PGCE to teach in Higher Education and also holds specialist certificates for supporting dyslexic students and students of English as a second language.

Michele grew up in South Buckinghamshire and now works mainly from her home in Berkshire. She loves fresh sea air and holidays are often spent in a family-owned property on the island of Menorca, where she can top-up her vitamin D levels ready for winter in the UK. At home, she enjoys growing her own vegetables in the garden, although her cat very much enjoys digging them up! Before discovering Nutrition, Michele gained a degree in Theatre & Psychology and continues to take regular singing and dance lessons which she strongly believes improves many aspects of physical, emotional and mental health.
ITEC Diplomas in Aromatherapy, Swedish Massage, Indian Head Massage
Diploma in Nutritional Medicine (Plaskett's Nutritional Medicine College)
BSc Nutritional Medicine (Thames Valley University)
PGCE for Higher Education (Thames Valley University)
Certificate in Teaching Dyslexic Learners
"Cook from scratch – it's the only way to know for sure exactly what's going into it!"
"Cook from scratch, it's the only way to know for sure exactly what's going into it!"