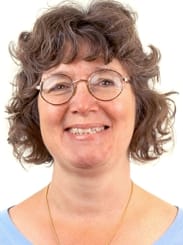 The Faculty
Mary Sharma
Tutor

Mary has been interested in natural medicine since her teenage years. She trained initially in Allergy Therapy and then continued her search for an answer to the cause of disease with further training in nutritional medicine, naturopathic medicine, Homotoxicology, iridology and Ayurveda. Mary is particularly interested in the interactions between the endocrine system, immune system and central nervous system (psychoneuroimmunology). Whilst Mary is trained in medical sciences and keep up to date with the latest research her roots are in naturopathic medicine which she finds always provides an answer to the cause of illness. Scientific research just validates the old wisdom.

Mary runs a busy practice combining the various disciplines that she is trained in. She is helping the School of Health develop our nutritional courses and also writes and delivers courses and lectures in nutritional therapy and the various disciplines covered by naturopathy.

Mary is passionate about passing on the knowledge that she has accumulated over the years in order that students can be inspired to become practitioners and help people improve their health. Mary loves enthusiastic students and will do whatever she can to help them become successful practitioners.

Marys training in Allergy Therapy left too many unanswered questions for her, the nutritional training that she did answered many of those questions regarding health and also led her into training in Homotoxicology which looked at the scientific basis for naturopathy and the humours of eastern medicine. Training in Ayurvedic medicine gave her a in-depth understanding of, not just health and disease processes, but also different character types. This training has been invaluable in her busy clinic because she is able to tailor her consultation to the individual concerned.

Mary grew up in Gloucestershire and loves the sea when she can get near it. Mary has Indian in laws who taught her a lot about Ayurveda and her mother in law has taught her traditional Punjabi cooking which she does regularly. Mary has three children, all adults now, who she remains close to. Mary has 3 cats that she adores and who really seem to run the house! Mary loves reading and her work and will continually have her nose in a book about topics that she is currently studying or writing about.
Naturopathic Diploma: General Naturopathic Council
Diploma in Nutritional Medicine: Plaskett Nutritional Medicine College
Diploma in Nutritional Therapeutics: Plaskett Nutritional Medicine College
Nutritional Therapy Council Certificate
Diploma in Homotoxicology: Academy of Homotoxicology
Diploma in Allergy Therapy: Prestberries Farm training centre
Diploma in Iridology: Plaskett Nutritional Medicine College
Ayurveda Diet and Lifestyle Consultant: Ayurveda Pura Academy
NAET training: NAET UK, basic and advanced courses
Kinesiology: Various courses: Classical School of Kinesiology Leicester
General Naturopathic Council
British Association for Nutrition and Lifestyle Medicine (BANT)
Naturopathic Nutrition Association
Nutritional Therapy Council
British Register of Complementary Practitioners (Homotoxicology)
British Complementary Medical Association (Allergy Therapy)
Registered NAET practitioner with NAET UK
Complementary Natural Healthcare Council
British Institute for Allergy and Environmental Therapy (Allery Therapy)
Guild of Naturopathic Iridologists
Ayurvedic Practitioner Association
Register of Allergy Therapists
Think outside the box and question everything!
Think outside the box and question everything!