The Vaccine Guide
Neustaedter, Randall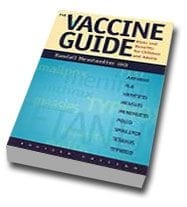 Printed in the US, paperback, 343 pages.
ISBN
9781556434235
Size
150 x 230mm
Weight
0.59kg
RRP
£16.95
Price
£15.50
From the cover:
The Vaccine Guide gives consumers the information they need to make informed decisions about vaccination. Parents who face a multitude of vaccines for their children and adults who must decide about flu shots, vaccination for international travel, hepatitis, and booster doses, now have a guide to the complex and often confusing realm of vaccine choices.

About the author:
Dr. Neustaedter has practiced homeopathy and Oriental medicine for twenty-five years, specializing in child health care. He has devoted his professional life to writing books and articles about children's health, teaching workshops and homeopathic classes, and curing patients. He is one of only a handful of homeopathic specialists in the field of child health care, and he is recognized within the homeopathic medical profession as an expert in child health problems. In 1997 San Francisco Focus Magazine acknowledged him as one of the Bay Area's best medical practitioners.

Dr. Neustaedter graduated from the University of California at Berkeley with a major in English literature and creative writing, and completed medical training at the San Francisco College of Acupuncture. His postgraduate education includes homeopathic training at the Royal London Homeopathic Hospital and an Oriental medicine doctoral degree in Hong Kong. He was director of the Department of Homeopathy at the Pacific College of Naturopathic Medicine, and has lectured at homeopathic colleges and numerous conferences of homeopathy and Chinese medicine. He founded both the Hering Family Health Clinic, the first full-service clinic in the United States to revitalize homeopathic medicine, and the Classical Medicine Center.