The Food Doctor
Marber, Ian & Edgson, Vicki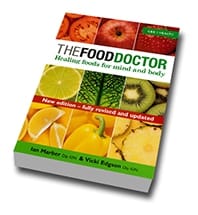 Printed in England, paperback, 176 pages
ISBN
1843401878
Size
203 x 254 mm
Weight
0.57kg
RRP
£14.99
Price
£14.50
A practical guide to balancing nutrition and delicious food. Sold over half-a-million copies Worldwide.

New edition - fully revised and updated. This book aims to show how each of the body systems work, which nutrients they require and in which foods these nutrients are found in abundance.
Healing foods for mind and body.
We have included a chart of the Top 100 Foods for easy reference with details of health-promoting properties.
Lifestyle questionnaires so that you can identify your own health issues, and learn more about them from the Food Doctor.
Find out how to improve your mood, minimise the effects of stress, improve your sleep and avoid the highs and lows of the day in the section of Energy and Emotions
All this is combined with stunning colour photography and easy to follow recipes for delicious breakfasts, lunches and snacks as well as dinner ideas.