The Essential Synthesis
Schroyens, Frederik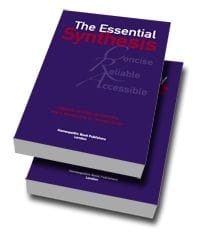 Printed in India, 2 volumes, Repertory hardback 1980 pages, Textbook softback 243 pages
ISBN
978-0-9557151-0-5
Size
145 x 205mm
Weight
1.76kg
Price
£83.00
From the promotional material:
Back... not to basics, but to the essentials! Have you ever wished for a printed repertory that is:
- easy to use
- comfortably portable
- focused only on clinically proven information
- complete in all the essentials, but with nothing 'extra'
- grounded in classical homeopathy

We have too, so we created it!

Introducing... The Essential Synthesis
Concise - Reliable - Accessible

Users of the Synthesis Repertory in software form value its different 'views' of the repertory. This especially includes the Quantum View - a precisely focused selection from the full repertory that includes only the proven essentials. To achieve this highly functional economy, the Quantum View is built with strict criteria:

- no theoretical approaches
- no dream or meditation provings
- no recent provings
- no information that is not yet confirmed in the clinic

Up until now, you needed a computer nearby to access this essential core of the repertory. But now you can use the Quantum View in book form. We've named it - The Essential Synthesis.

The Essential Synthesis offers you a robust amount of information - the very information you can count on for clinical success.

New and Essential
Even if there is less total information here, there are also important new additions, too. The Essential Synthesis contains Kent's Treasure: Kent's personal annotations, written into his personal copy of his own repertory. There are a total of 11,368 additions and corrections here - certainly essential! Plus, the Treasure also includes 333 hand-written additions that Kent made in his personal copy of Hering's Guiding Symptoms.

Also available for the first time in print form is a chapter of veterinary information - all the interesting veterinary symptoms, all the remedies of veterinary origin, and a list of veterinary concepts leading to related symptoms.

Easy to Read, Easy to Use
Much thought and care has gone into creating the physical book itself. For easy reading, the font sizes are one size larger than in the full Synthesis book. The page layouts were worked and reworked to achieve a maximum economy of space. And B. Jain Publishers worked very closely with us to give the book a practical thumb index at an affordable price.

We hope you enjoy using this new print repertory.Soon you may be saying, along with us: Less is More!

About the Author:
Dr. Frederik Schroyens was born January 12, 1953 in Mechelen, Belgium.

Schroyens is a 1977 medical graduate of the State University of Gent (Belgium) and a 1978 graduate of the one-year Homeopathic Training Course at the Faculty for Homeopathy in London (MFHom).

In 1981 Dr. Schroyens was the constitutive President of VSU, the largest Homeopathic School in Belgium. VSU has given a one-year introductory training on homeopathy to more than 1.000 students and fully trained over 150 homeopaths. The homeopathic education is build up over a five-year program. He also founded the Masi-workshops in Belgium and Holland.

Dr. Schroyens was one of the first RADAR users in 1986 and became enthusiastic about the increasing possibilities computer science offers to Homeopathy. Because of his dedication to the program, he became the Homeopathic Coordinator of the RADAR Project.

In 1987, he was appointed as the main link between George Vithoulkas and the programming team of the University of Namur (Belgium) during the development of the Vithoulkas Expert System. He has been accompanying George Vithoulkas on his seminars since 1988 as well as assisting him during most of his consultations since that time.

Dr. Schroyens published an introduction to homeopathy in 1984 in Dutch, which has been translated into French and Portuguese. In 1993 he edited the printed version of the Synthesis Repertory, the expanded repertory linked to the Radar project. A computer version of Synthesis exists in seven languages. This Repertory has also been printed in German, English, Dutch, Italian, Spanish and Portuguese. Translations into various other languages are ongoing.

Since 1995, Dr. Schroyens has published several books based on Synthesis such as 1001 Small Remedies and Arzneimittelbilder von Gemut und Traume.

Dr. Schroyens lectures on RADAR software and homeopathy in Europe as well as in North and South America and India.