Lacs in homeopathy
Master, Farokh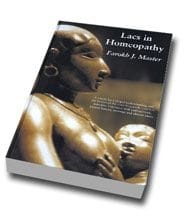 Printed in The Netherlands, hardback, 202 pages
ISBN
9074456103
Size
170 x 245mm
Weight
0.57kg
RRP
£21.00
Price
£21.00
This well written, presented and comprehensive book looks in detail at the Lacs, a frequently prescribed and valuable set of remedies. The book contains deeper understanding and the themes of the most frequently used Lac remedies. Expanded with pathogenesis, natural history, proving and clinical cases.

About the author:
Farokh Master (born 1957)
Dr. Farokh Master was born in Mumbai, India. He has been practicing classical homeopathy full time since 1980 and is an internationally acclaimed teacher. Dr. Master has written over thirty books on a variety of homeopathic subjects. His thematic approach to materia medica is always well received and he consistently brings to life the substance that he investigates. He is a member of the Central Council of Homoeopathy, Ministry of Health and Welfare, Government of India.