Vital Practice
Ryan, Sheila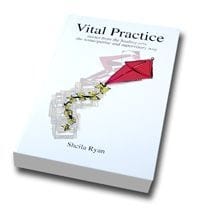 Printed in the UK, paperback, 210 pages.
ISBN
0
Size
150 x 230mm
Weight
0.45kg
RRP
£15.99
Price
£15.50
This collection tells the story of rapid gentle and lasting change achieved by a homeopathic approach to supervision.

Homeopathic principle is explored as to healing relationships: Individuality, 'like cures like' and minimum intervention are seen in action in both therapeutic and supervisory relationships. Further, we see what difference it make when we bring a supervisory quality of looking to our practice: These tales show how simply being 'present' to the moment contributes to healing.

Along the way we meet with eternal questions for any healing artist:
Are some people healers and others not?
Do we think we can heal anyone but ourselves?
What is the difference between healing and curing diseases?

Whether you come to these tales as a homeopath, therapist, clinician, student or supervisor, there is inspiration here to practice a homeopathic supervision in the interests of healing relationships.



Contents
Preface 1
Introduction: The Homepathic and Supervisory Way 5
Stories from the Healing Arts: The Healing Art of Story 23
One. What is the Matter? A Patient's Story 31
Two. Let's Go Fly a Kite: A Practitioner's Story 47
Three. Cheetah: Story Becomes a 'Case': There Are No Stuck Cases 61
Four. Ain't Gonna Die For You: Don't Shoot the Messenger! 71
Five. Magic Classes: Re-Vision 97
Six. And the Boat Capsized in Deep Water: Whose Story is This Anyway? 109
Seven. The Dog's Story: The Mad Dog and the Wolf: Bringing Home the Wild and the Civilised 127
Vital Kit. Introduction 145
Making and Maintaining Working Relationship 147
Guides for Triading: Working in Threes 155
Contexts 171
Glossary 193
References 199
Index 205

Reviews
"Vital Practice is the first text in the worldwide supervision profession that integrates the art and science of homeopathy with those of supervision. In this book Sheila has created a gift for both professions. It will give us a shared text to work from as well as accelerate a homeopathic understanding of supervision practice." Kathy Lukas, Co-Principal New York School of Homeopathy

"At last a book that describes and explores the potential and range of supervision in a homeopathic context." Grazyna Baran, Registrar Society of Homeopaths

"Here's a book which fills a gap in our literature - well two gaps actually. The first is the supervision of practice, the second is the bringing together of homeopathic awareness with current trends in psychotherapeutics and spiritual growth work. The title, Vital Practice gives it away: the book is about helping the practitioner stay in the vital flow, the dynamic of the moment, without prejudice and therefore, hopefully without burnout. The book gives cases and anecdotes and offers exercises to encourage the reader to be awake and creative in their day to day practice." Misha Norland, Founder of The School of Homeopathy


About the author
Sheila Ryan F.S.Hom is Clinical Principal of the School of Homeopathy Devon. She is a faculty member of the School of Homeopathy New York and Supervision Consultant to The Society of Homeopaths, the Irish society as well as other schools and organisations including the Prague Institute for supervision. She is a member of the European Association for Supervision. She studied homeopathy at the School of Homeopathy from 1984 with Misha Norland and since with George Vithoulkas, Jeremy Sherr and Rajan Sankaran. She practises homeopathy and supervision at her home in Dorset where she also runs Sea Change workshops for individuals, groups and facilitators to practice a homeopathic approach to supervision, mentoring and coaching as well as a more supervisory approach to homeopathy.