The Nature of Disease
Thomas H McConnell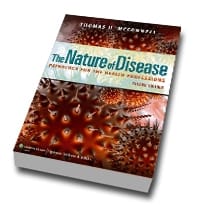 Printed in USA, paperback, 817 pages
ISBN
ISBN-10: 1609133692 ISBN-13: 978-1609133696
Size
3.2 x 21.6 x 27.9 cm
Weight
1.90kg
Price
£69.00
The Second Edition of The Nature of Disease is written specifically for the student.
It combines three important features to bring students a unique learning experience: a narrative (storyteller) style that makes reading and learning easier; chapters that open with a review of normal anatomy and physiology to prepare for the discussion of disorders and diseases, and case studies that bind the material together and make it more memorable. Chapters focus on answering the most important questions that students have about every disorder and disease: the definition of the condition, its cause, how the anatomy and physiology change and evolve, how it is diagnosed and treated, and the outlook.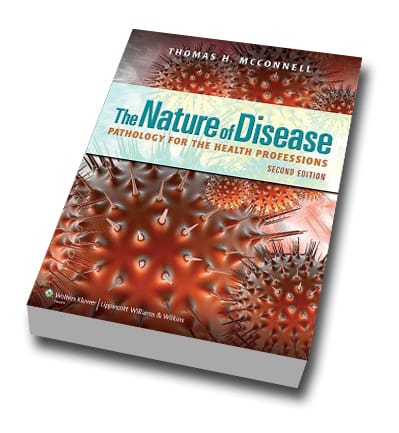 Contents
Dedication v
Reviewers vi
Preface viii
Chapter Features: A Guided Tour xi
Acknowledgements xv

Part 1: Mechanisms of Health and Disease
1 Health and Disease 2
2 Cellular Pathology: Injury, Inflammation and Repair 16
3 Disorders of the Immune System 43
4 Infectious Disease 79
5 Neoplasia 114
6 Disorders of Fluid, Electrolyte and Acid-Base Balance and Blood Flow 140
Part 2: Disorders of the Organ Systems
7 Disorders of Blood Cells 177
8 Disorders of Blood Vessels 210
9 Disorders of the Heart 237
10 Disorders of the Respiratory Tract 276
11 Disorders of the Gastrointestinal Tract 305
12 Disorders of the Liver and Biliary Tract 351
13 Disorders of the Pancreas 384
14 Disorders of the Endocrine Glands 409
15 Disorders of the Urinary Tract 445
16 Disorders of the Male Genitalia 488
17 Disorders of the Female Genitalia and Breast 507
18 Disorders of the Bones, Joints and Skeletal Muscle 556
19 Disorders of the Nervous System 595
20 Disorders of the Senses 638
21 Disorders of the Skin 671
Part 3: Disorders of the Stages and States of Life
22 Congenital and Childhood Disorders 706
23 Disorders of Daily Life 741
24 Aging, Stress, Exercise and Pain 768

Index 788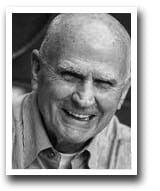 About the Author
Thomas H. McConnell was born in Dallas in 1937. He was initially educated at public school in Sulphur Springs and later was an undergraduate at Rice University. He gained his MD degree at the University of Texas Southwestern Medical School in 1962.

After his internship at the University of Mississippi Hospital in Jackson he served from 1963 to 1965 in the US Army, firstly as a General Medical Officer in the Pentagon and later as a Battalion Surgeon with the 101st Airborne Division. In 1965 he returned to Dallas and trained in pathology at the new Parkland Hospital and UT Southwestern and was a private practitioner and laboratory entrepreneur from 1969 to 1991.

He returned to Dallas in 1965 to train in pathology at the "new" Parkland Hospital and UT Southwestern and was a private practitioner and laboratory entrepreneur from 1969-1991. In 1997 he accepted a teaching appointment in the pathology department at UT Southwestern.

As well as The Nature of Disease he is co-author (with Kerry Hull) of Human Form, Human Function (2010), a textbook of anatomy and physiology.