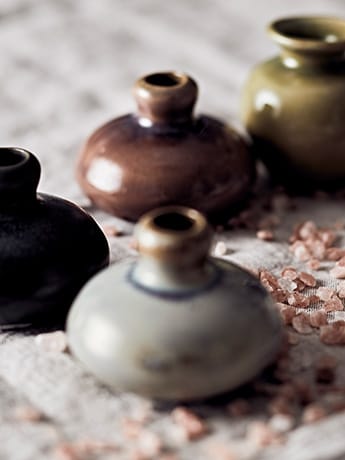 Indian Head Massage
Indian Head Massage is based on the Ayurvedic system of healing which has been practised in India for more than a thousand years. The therapist uses a range of different massage pressures and rhythms to stimulate the head, neck, upper back and shoulder area. Not only does the treatment improve the quality of the hair but it has beneficial effects on head and neck tension. The word shampoo comes from the Hindi word 'champi' meaning massage of the head.

Massage has always played an important part across the generations as an integral part of Indian family life. Indian head massage began from this rich tradition of family grooming. Early Ayurvedic texts dated 4000 years ago describe the use of herbs, spices and aromatic oils used with massage. The concept was originally developed by women who used different oils according to the season to treat the hair of their daughters. Coconut, sesame, almond, olive oil, herbal oils, buttermilk, mustard oil and henna were all used to keep their long hair strong and in beautiful condition. Barbers practised these same skills on their male clients.
The tradition of Indian head massages was confined to India for over a thousand years until native Indian, Narendra Mehta travelled to England in 1973 to study osteopathy. He began offering the head massage practice in England and it rapidly spread to other Western countries. Mehta also expanded the tradition to a more holistic massage of the head, neck and shoulder region.
Main principles
Massaging the scalp increases blood flow to the hair follicles which speeds the delivery of vital nutrients, oxygen and stimulates the waste disposal system that eliminates toxins. Rubbing the scalp stimulates the production of sebum, the skin's natural oil. This oil then gets distributed throughout the scalp and newly-grown hair. Sebum works to condition, nourish and protect all parts of the hair in situ. The use of additional warmed oils such as sweet almond oil, argan oil or coconut oil, can really help it to penetrate into all layers of the hair shaft, locking in moisture. This creates a glossy shine and prevents breakage by giving the hair extra elasticity. In addition, the stimulation of the blood and lymph supply to the scalp increases the circulation and can relieve tension.
Uses
Treatment can provide instant relief from tension and stress symptoms in the face, head, neck and shoulders. It can induce a state of calm, peace and tranquillity but also promote high levels of alertness and concentration. Eye strain, tension headaches and migraines can be relieved and sleep patterns improved. Lymphatic drainage can be improved and blood flow to the brain can be increased with consequent improvement in concentration and memory.
Association
ITEC Award in Indian Head Massage (Level 3 QCF) UK Accreditation
richdales.co.uk/course/itec-qcf-certificate-in-indian-head-massage
Treatment can provide instant relief from tension and stress symptoms.