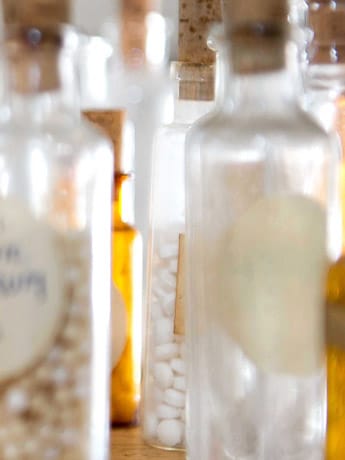 Bach Flower Remedies
Bach flower remedies are individual tinctures of 38 flowers whose healing powers were intuited by Dr Edward Bach, who had been a medical practitioner in London. They are prescribed by trained therapists to be taken orally alone or in combination to initiate self-healing for the treatment of various emotional problems. Many homeopaths may also use the Bach Flower Remedies.

It was Dr Edward Bach (1886-1936) whose work revealed the healing powers of the 38 flowers that are now known as Bach Flower Remedies. Having spent many years as a medical doctor following in the recent footsteps of Pasteur and Koch, where he immersed himself in the treatment of physical disorders, he later refined his work and travelled a road of increasing sensitivity from surgery, through bacteriology, immunology and vaccination in their early days, to homeopathy and then to Flower Remedies. His research took him from working with the very physical body to trying to understand the spiritual context of life and ill health. He believed that the Flower Remedies carried the imprint of a vision for humanity which involved self-healing. He was an intuitive, psychic and probably clairvoyant and these gifts informed his work with Flower Remedies. He believed that the true source of ill health lay in the sphere of emotions like insecurity, anger or jealousy (for example) which were out of balance and so the Flower Remedies could be taken individually or in combinations- probably of up to five at a time- to bring equilibrium to a troubled patient. He initially discovered the power of 12 Healers: flowers which he associated with personality types and revealed the person's true nature. Later he found 7 Helpers which he selected for healing long-term emotional states which might obscure that nature. The second 19 Flower remedies are associated with emotional responses to sudden traumatic events. Rescue remedy is maybe the most familiar of the commonly-used Bach Flower Remedies and contains a combination of 5 flower essences useful in an acute situation. The Bach Flower Remedies are neither homeopathic nor herbal and do not relate to the medicinal effects of the plant as written up in herbals and pharmacopoeias.
Main principles
They are prepared in two different ways according to the notes left by Dr Bach. The 12 Healers and the 7 Helpers are made by floating the particular flower in a glass bowl of spring water exposed to sustained sunlight. The second 19 are made by boiling the flowers in spring water. Each of the flower essences is then combined with 40% organic French brandy and bottled in a dark glass dropper bottle ready for oral administration.
Uses
Bach Flower remedies have particular use in various emotional disturbances such as anger, fright, jealousy, indecision etc. They can stand alone or be used in combinations of up to 5 essences. They are also complementary to homeopathic remedies and support a patient on constitutional treatment when unexpected disturbances arise during treatment.
Association
The Bach Centre
http://www.bachcentre.com
The Bach International Education Programme (BIEP) is the biggest international provider of Bach Centre-approved training, with courses running in more than 30 countries.
Bach Flower remedies can stand alone or be used in combinations of up to 5 essences