Advanced Entry Unit
Homeopathy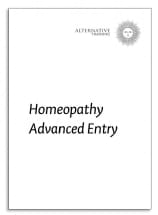 Advanced Entry Unit

For students applying for Advanced Entry on the homeopathy course use this product to pay for your enrolment and materials.
We will know which entry point you are joining by checking your student enrolment, however if you have not already done so, you may also like to contact the office to let us know or you can use the 'notes' field in the shopping cart.
Please select your region from the drop down list.