School of Homeopathy Supervision day
Homeopathy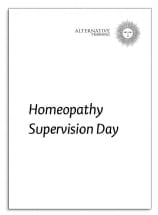 Hawkwood College, Stroud, 5th May 2017, 10 am to 5pm
This is a supervision refresher day, recommended for those currently supervising students at the School of Homeopathy and open to everyone on our supervision network. It can also serve as a "taster" day for those who are interested in doing the Sea Change course in order to join our supervision network.
The theme for the day will be circulated to participants nearer the time. If you have any particular needs or suggestions email Penny Stirling: homeopathy@pennystirling.plus.com. As always the day will include Supervision day lots of practice in giving and receiving supervision.
There is a fee to cover expenses this year, £40 (lunch and room hire at Hawkwood.) The event itself is still offered to you freely.
We only have 12 places on this course so please book early to ensure your place!