Homeopathic Mind Maps
Lee, Alicia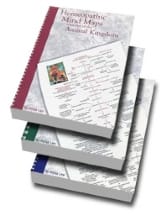 Printed in New Zealand, Paperback, 393 pages
ISBN
9780473176976
Size
300 x 220mm
Weight
2.00kg
RRP
£105.00
Price
£50.00
Please note that we are selling these books at less than half price. The reason for this is that the books we have are mis-prints. They were printed with light grey boxes around the copy. As you can see from this link the light grey boxing does not diminish or affect the legibility or use of the books.
From the website (www.moozoonsii.com):
In three volumes Alicia lays out the remedies in a visual form that illustrates the unfolding nature of each remedy. The presentation gives a full view of the materia medica at a sweeping glance, and also allows the homeopath to easily follow the development from deepest mental beliefs to the resultant pathology in a flowing, logical pattern.

Homeopathic mind maps are not a new idea, however, the form that Alicia's mind maps follow is completely unique. It is a stream of consciousness, giving a multi-dimensional view of the remedies which we have never seen before. Whilst very complex for the author to create, they actually transform our view of the individual remedies into lovely simplicity.

Whilst Alicia's mind map books are written for homeopaths, and are exceptionally useful as teaching resources for materia medica, they are also of interest to the layman.

Each book is enriched with history, chemistry, mythology, herbal lore, folklore, etymology, taxonomy and a wealth of other resources that enhance our understanding of the substance. Each mind map is brought to vividly expressive life with an apt photograph.

The books are beautifully produced on high quality paper, in glorious colour and with a wire binding that allows the reader to double the book back on itself, making the book very simple to hold and taking up much less room on the desktop. Once you hold these marvellous books in your hands you won't want to put them down again!