Herbal Medicine - One Day Taster Course
Herbal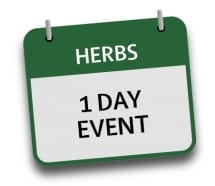 Herbal Medicine - One Day Taster Course - Fully Booked!
Come and learn about herbal medicine and history, the actions of herbs, food as medicine and herbs for the bodily systems including digestion, circulation, respiration, immune, nervous, endocrine, musculoskeletal and urinary systems. On the course we will give a brief introduction to each system as well as key herbs for those systems.


People have always used plants to heal. We live in a world in which a symbiotic relationships between plants and people occur - plants can heal us and once we tap into the great wide world of plants and health, we can become part of all that has come before and use plants for healing ourselves and our communities.
It will be a full and exciting day giving a great introduction to herbal medicine. For those that want to take their learning further you would have the option of enrolling on The School of Health's new Herbal Foundation Course with 10% discount - out later this year.
We only have 10 places open for this event so we are asking recent graduates and current students before we open it up to the public. If you would like to come please book early.
Teacher: Amy Dadachanji
Date: Friday 28th June 2019
Time: 9.30am – 5.30pm
Fee: £75.00
Location: Homeopathy Clinic, Stroud
The day will look something like:
9.00 Registration
9.30 Welcome
10.00 – 11.30 : Introduction, history, actions of herbs, food as medicine
11.30 – 12.00 Break
12.00 – 13.00 : Digestion, circulation
13.00 – 14.00 Lunch
14.00 – 15.30 : Immune, nervous
15.30 – 16.00 Break
16.00 – 17.30 : Endocrine, musculoskeletal, urinary
17.30 Thanks & Close
About Amy
Amy's main focus as a practising medical herbalist is clinical consultation and herbal education. She has been working in herbal medicine for 22 years and has been in professional clinical practice for 13 years.
Since starting her clinical practice, she has taught various workshops and courses. This includes in schools, private functions, festival walks and workshops, herbal first-aid, personal tuition and students with special needs.
The last two years she has also run community-supported medicine gardens, reaching anyone who is interested in herbal medicine as no fee is charged for learning in exchange for basic work on the garden, this has meant it has been extremely inclusive.
Amy loves to work with the indigenous and naturalised plants around her, she has also spent many months living with Ayurvedic practitioners in India and rainforest shamanic practitioners in Ecuador and Costa Rica. The foreign plants that she has learned about fascinate her and she loves to incorporate a worldwide health and herbal viewpoint when she practises and teaches.
Herbal Medicine, and all it encompasses, is completely integral to life as Amy wants to live it, she works with integrity, authenticity and passion and has an attitude of compassion, empathy and patience.