What do stars such as Jennifer Aniston, Jade Jagger, Orlando Bloom, Tobey Maguire, Sir Paul McCartney and the Beckhams have in common?
They have all used homeopathic remedies to help improve their health and wellbeing. In fact, it is estimated that over 30 million people in Europe alone use homeopathic medicine, as more and more people turn to this form of complementary therapy to help treat common ailments and conditions. 'Many people are choosing homeopathy because they have found conventional treatment has not helped them.' says Dr Bob Leekridge, a former president of the Faculty of Homeopathy. 'People are also anxious about the side-effects that can arise from taking conventional drugs.'
Click the image below to read the full article!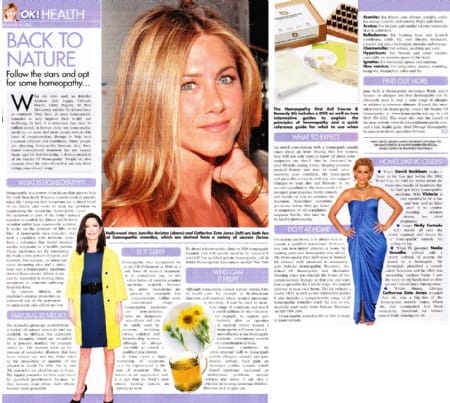 Tags: Stars | Homeopathy | Nelson | Alternative Training
This entry was posted on 01 June 2008 at 15:54.