Event Course Fee
Naturopathy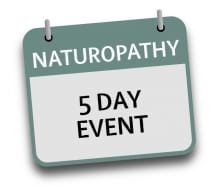 On the naturopathy course clinical and practical training is gained through the 5-day intensive summer schools and workshops. Each student wishing to certificate at the highest level (Naturopath ND) and register the Society of Naturopaths must gain a minimum of 50 clinical hours.
Students are eligible to attend the clinical event from Unit 5 onwards. Courses run annually in Stroud, Gloucestershire and are ideally attended in person due to the practical elements of the training. However, if you are unable to join in person then you can attend via Zoom. Contact us for exact dates and content.
As we only run events once a year it is a good idea to plan your study for an event. At the time of booking the 5-Day Clinical Event you will be required to pay a registration fee to secure your place. Before attending the event you will be asked to pay the course fee. Accommodation and meal fees are not included and details of possible options will be sent upon registration.
The 5-Day Clinical Event is run by course co-author and teacher Mary Sharma ND. You will learn how to put theoretical knowledge into practice in a safe therapeutic environment and you will learn new methods in order to extend your practice. It is also a great place to ask questions, to listen and learn from each other and make new friends.Through live clinics and paper cases students gain the expertise and confidence to work on a wide range of cases. Clinical training is a fundamental aspect of the course where students put theory into practice.