Mixed Flavours - Materia Medica
Size
0
Weight
0.30kg
RRP
£30.00
Price
£19.00
Mixed Flavours - Materia Media CD Pack contains 5 CDs with lectures from some of the UKs leading homeopaths talking about materia medica. These are great CDs to redicover these remedies or learn them for the first time. Ideal for listening to while in the car or doing house work.
1. Natrum Muriaticum - Misha Norland
2. Ignatia - Jeremy Sherr
3. Opium - Janet Snowdon
4. Carcinosin - David Mundy
5. Stramonium - Misha Norland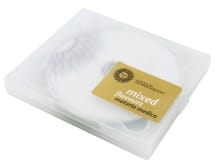 Any questions... just give us a call
01453 765 956
You may also like...